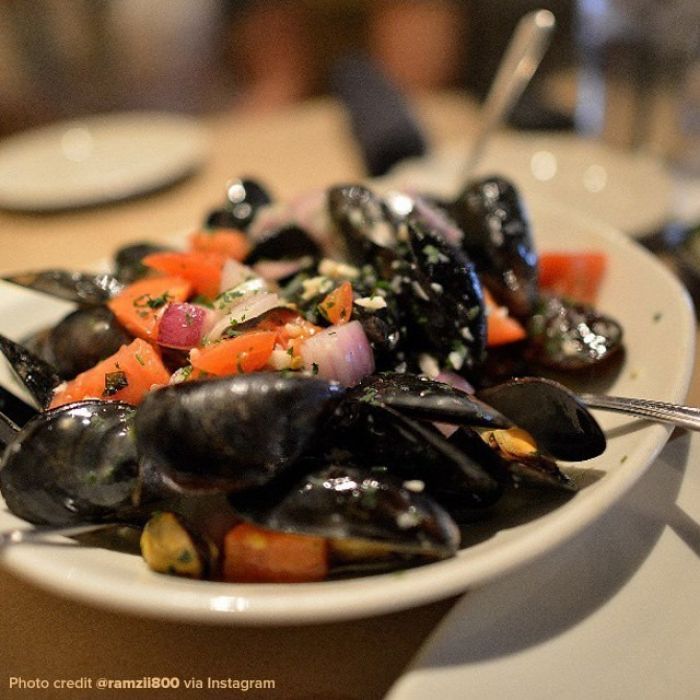 Bonefish Grill
Fresh seafood, a fun atmosphere and a creative cocktail list is what Bonefish Grill is all about. The Burlington, Mass. Location opened in November and has been serving up deliciously fresh seafood dishes at Wayside Commons.
We stopped by recently for dinner on a busy weeknight when the restaurant was filled to a near capacity and were seated in a large comfortable booth. Get started with a sampling of mussels Josephine, a massive bowl of Prince Edward Island mussels sautéed in a delicious lemon wine sauce tossed with tomatoes, garlic and basil.
Move onto the tempura style fish and chips, lightly battered, golden and crispy served with a generous portion of French fries. The standout dish here was the Lobster Thermidor Dorado topped with sweet lobster, lump crabmeat and topped with a velvety sauce with a hint of sherry and a side of creamy potatoes au gratin.
The menu here also features wood-grilled specialties like a juicy boneless pork chop, an 11-ounce sirloin and a chicken breast topped with goat cheese, sautéed spinach and artichoke hearts in lemon-basil sauce. Be sure to save room for the macadamia nut brownie with vanilla ice cream and chocolate sauce, large enough to be shared, but so good you may want your own.
The first Bonefish Grill opened in 2000 in St. Petersburg, Florida. Since then, several locations have opened throughout the southeast and northeastern coasts. Bonefish Grill is located at 4A Wayside Road in Burlington, Mass. For more information, call (781) 273-0768 or visit them online at www.bonefishgrill.com.
Bonefish Grill
Bonefish Grill
Bonefish Grill