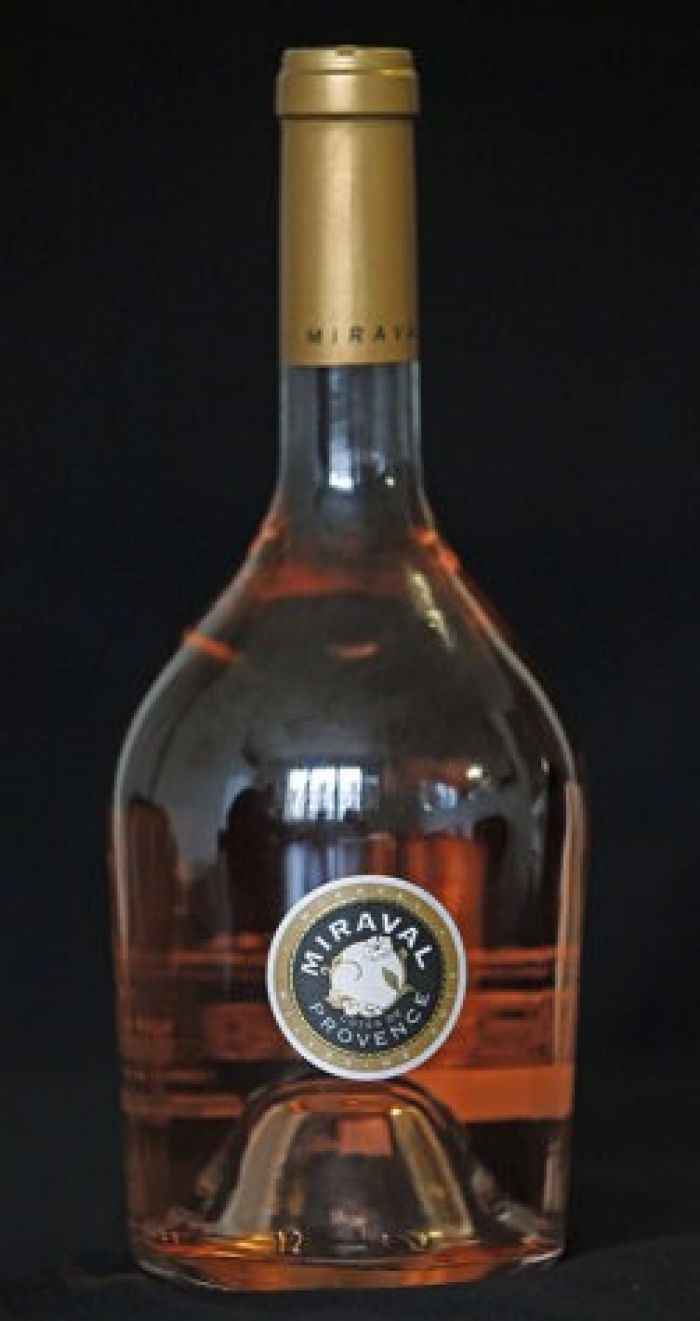 Courtesy of Miraval
Brad Pitt and Angelina Jolie, in partnership with the winemaking Perrin family, have released their first wine: Miraval Cotes de Provence Rose 2012. Made with organic grapes from the couple's 1,000 estate, Chateau Miraval, located in beautiful Correns, France.
The refined rhone is a blend of the red grapes Cinsault, Grenache and Syrah, and the white grape Rolle, aka Vermentino. The Syrah is vinified by saignee, the other varieties by direct pressing. But what makes it especially valuable is that the back label reads "bottled by Jolie-Pitt and Perrin," making this the the first Miraval vintage by the Hollywood couple, in a joint venture with established vintner Marc Perrin of the Famille Perrin, one of the leading wine producing families in France.
Tucked away in its own private valley in the ancient village of Correns, the first organic village in France – chateau Miraval covers 500 hectares of land in the heart of Provence at the foot of Via Aurelia, an extensive route built to facilitate Roman expansion in the 3rd century BC. Following Celtic settlement and Roman occupation, the property served as host to monastic practive and as home to members of the French Court, appearing in the Registry of Noble Houses in the 14th Century. A different sort of nobility settled here in 1970s when it became the home of Le Studio de Miraval and guests including Pink Floyd, Sting and Sade.
Today the Chateau is a summer residence of Brad Pitt and Angelina Jolie, and is set in an idyllic cirque surrounded by ancient woods, olive trees, vineyards, lush wildlife and natural water supply. The vines enjoy warm, sunny days and cool nights at an altitude of 350 meters, bringing balance to the wines. Natural clay and chalk soils retain the water supply, draining when in excess. The estate is cultivated 100% organically, without use of herbicides, pesticides, or chemicals that can enter the vine and affect the fruit. Grapes for Miraval are hand-picked from the oldest vines in the estate.
The first run of 6,000 Miraval Rose bottles was put on sale online in March and sold out within five hours. The new limited edition of 750 ml Miraval Cotes de Provence bottles will assuredly not last long, but are currently available for $25 exclusively at BevMo. Wine Spectator gave it an "Outstanding" score of 90 points, noting its "pure flavors of dried red berry and tangerine, and a focused finish with flint and spice notes."
What's next for vintners Brangelina? The August 2013 release of Miraval Cotes de Provence White. Issued from the domains parcels of Terre Blanche, the variety Rolle intends to show a rich, soft. and broad aromatic range.
Courtesy of Miraval
Miraval Vineyards & Winery
Courtesy of Miraval
Miraval autograph