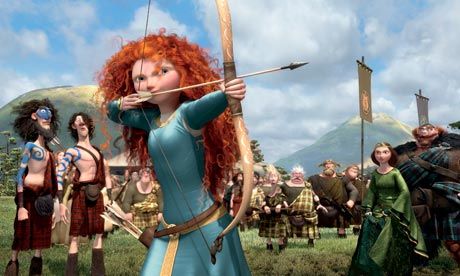 disneyPixarAP
'Brave', the latest Disney Pixar film to hit our screens, had its European premiere on the closing night of this year's Edinburgh International Film Festival. The film recently topped the US box office, scooping an estimated 66.3 million US dollars following the world premiere in LA.
The fantasy fairytale set in the medieval Highlands of Scotland features the voices of some of Scotland's biggest stars, including Billy Connolly and Robbie Coltrane. English stars Emma Thompson and Julie Walters also feature in the film and it has to be said, their Scottish accents are admirably authentic. The film's motley characters are a cheering mix of larger-than-life clan chieftains, naughty magical spirits and a scary witch. The star of the show is Princess Merida (voiced by Kelly MacDonald), with acres of tousled curly red hair, a penchant for archery, tomboy nature and a 'don't-tell-me-what-to-do' attitude. The film is rowdy, vigorous, funny, loud and very, very Scottish.
In the film, Merida has come of age and her parents, King Fergus (Billy Connolly) and Queen Elinor (Emma Thompson) decide to stage a tournament to find her a husband. The trouble is, Merida doesn't want a husband and in typical teenage fashion has a huge row with her mother. In a temper, she leaps on her trusty steed Angus and gallops off into the forest. A trail of will-o-the-wisps lead her to a witch (voiced by Julie Walters) who concocts a cake to 'make the Queen change'. Trouble is, she doesn't say how it will make her change and Merida doesn't ask....
Merida returns to the castle and presents it to the Queen. Of course, it wouldn't be a fairytale if something weird didn't happen when the Queen ate a slice.....but all's well that ends well and it does, though not before plenty of gripping heart-in-mouth moments to keep you entertained.
Guest at Premiere copyright David Johnstone
Robbie Coltrane copyright David Johnstone