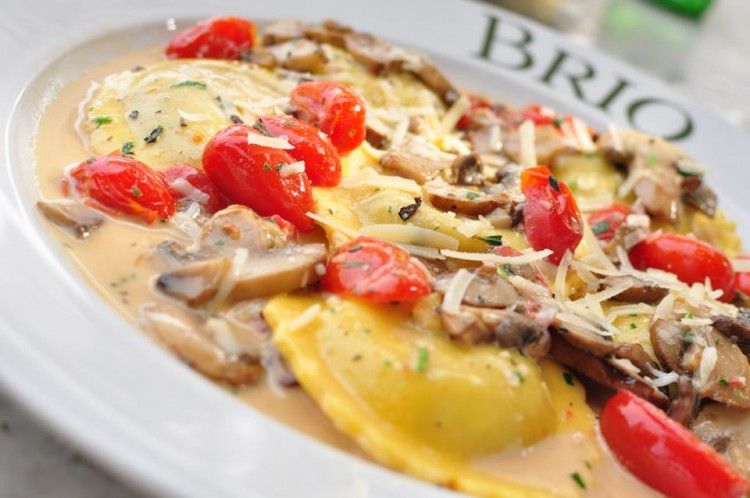 Brio
There's a new kid in town in Chestnut Hill and it's an Italian one. More like an Italian restaurant in the form of BRIO, which recently opened at Chestnut Hill.
Located in the new plaza known as Chestnut Hill Square, the Tuscan grille has locations across the country with this location being the first to open in Massachusetts. We stopped by the restaurant recently for dinner to see what all of the buzz is about.
The spacious restaurant is beautifully decorated with the focal point being a large open kitchen at the back. We were seated in a plush booth and got started with a deliciously light white peach sangria and nice strong gin martini stuffed with blue cheese olives.
The service here is to be commended – from the servers who fill up your water glass to the main wait staff, each one is friendly and attentive. There is a gluten-free menu available but we ordered from the main menu. Appetizers here feature everything from crispy calamari and tender beef carpaccio to bruschetta and crab and shrimp fonduta.
We got started with a sampling of the spicy shrimp and eggplant, a tasty combination of pan seared shrimp with crushed eggplant tossed in a delicious black pepper cream sauce. The sausage, pepperoni and ricotta flatbread was the perfect started topped with fresh mozzarella in a tangy tomato sauce with just the right amount of toppings.
For main events, the lasagna Bolognese al forno was a unique treat – layers of lasagna with altering layers of Bolognese meat sauce and creamy ricotta were combined with a rich alfredo sauce (we weren't counting calories that night). The campanelle carbonara was the winning dish of the evening made with grilled chicken, crispy bacon, parmesan cheese and sautéed spinach tossed in a rich alfredo sauce.
A dinner here would be remiss without a sampling of torta di cioccolata, a warm chocolate cake filled with a creamy chocolate center served with a scoop of vanilla bean gelato and topped with chocolate syrup – the perfect ending to a hearty meal.
Brio is located at 200 Boylston Street in Chestnut Hill, Mass. For more information, call (617) 795-7150 or visit them online at http://www.brioitalian.com/chestnut_hill_square.html.
Brio
Brio