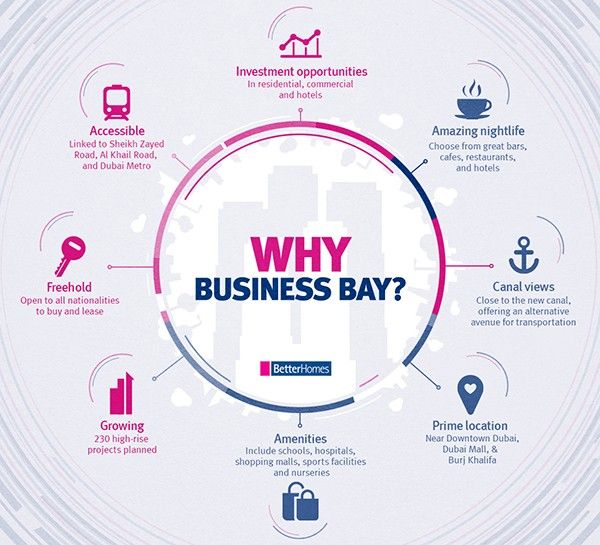 www.bhomes.com
Being the largest real estate development in the city, Business Bay is the only central business district in Dubai. Upon its completion, the mixed use project is expected to possess 230 high rise residential and commercial towers. Despite hitting hard during global economic crisis of year 2008, the project started showing clear signs of progress with return of construction activities. Rapid construction and development work have transformed this neighbourhood into a contemporary place which is equipped with state of the art business and accommodation facilities. The newly built towers are capable to offer comfortable accommodation in spacious apartments, office units and retail space with uninterrupted views of Dubai Canal.
Live or invest in Business Bay
Besides being mixed use real estate development, the development is considered among few most admirable projects in Dubai. Idyllically located between Sheikh Zayed Road and Al Khail Road, the district provide easy access to several other famed communities like Downtown, Al Quoz, Zabeel and Al Wasl. Residents can also enjoy uninterrupted views of top land marks like Burj Khalifa and Dubai Mall. Moreover, inhabitants also access to other city attractions like cinemas, shopping malls and restaurants in not more than 10 minutes. The project possesses its own metro station whereas residents can also benefit themselves with Downtown metro station. Taxis are readily available anytime. The mega project is expected to become business and retail hub. While providing high standard of living and state of the art equipped offices, Business Bay is a freehold area allowing non UAE residents to buy residential and commercial properties.
Investment offerings in Business Bay
Soon after the inception of stalled projects a meaningful change has observed throughout the project.†Several commercial and office projects are launched this time as residential and hotel projects instead of their previous sector. This shows investors can avail profitable investment opportunities in residential and hotel sector along with commercial investment opportunities. Although investing in commercial properties is more profitable as compare to residential. Having considered the connectivity with other major communities and easy access to almost anywhere in the city is continuously pulling world renowned corporates to move their office in the district, making Business Bay a hotspot for commercial property investment as well. Burlington Prime Tower and Park Central are the major commercial and residential completions in during the Q1 of 2014. Whereas major under construction projects include Iris Bay 32 story commercial project, Damacís 22-storey Bayís Edge tower a project with 220 furnished apartments and a 24 story The Pad by Omniyat.
Accommodation offerings in Business Bay
Besides providing comfortable living in spacious studios and apartments, the district offers complete range of lifestyle facilities for its residents from school, healthcare, shopping malls and sporting facilities for residents. Residential towers in the district are designed to proffer incredible lifestyle and luxury living for those who prefer living in a lively community without compromising on luxury. Residential projects in the district are well equipped with amenities like playing area, arcades and podiums to provide covered walkways for pedestrians. Executive Towers, Churchill Towers, Fairview Residency and Hamilton Residency are the few well known residential projects of Business Bay offering luxury living for singles and families in studios, serviced apartments and apartments.
Project plan was sketched in 2003 while infrastructure was accomplished in 2008; the project was emerged as business district in the city. Later the economic downturn almost stalled this project. Currently Business Bay is showing robust activities and revealing several profitable investment opportunities for investors besides providing accommodation and office spaces for rent and buy.