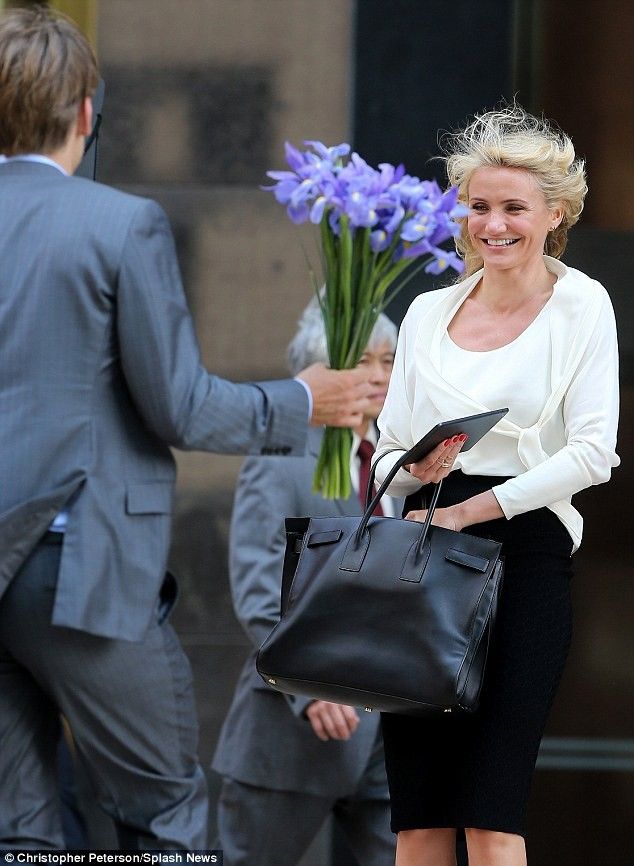 C. Peterson/Splash News
We'll skip the obligatory Medusa joke because she looks so darn good otherwise, but Cameron Diaz is in serious need of some hair counseling. Now sure, after a long day at work or enduring the elements, it's not easy to keep long hair in check, but this is going to far. Caught on the set of The Other Woman with a hairstyle that would make Einstein proud, Diaz looked more than a little bedraggled.
She's become known for her signature bottle blonde locks.
But Cameron Diaz got her iconic tresses into a tangle as a gust of wind blew over her while filming a scene on set of The Other Woman in New York, on Saturday.
Following the 40-year-old's breezy jaunt her normally straight hair was blown out into a frizz as her co-star Nikolaj Coster-Waldau gallantly offered her a bouquet of flowers for a scripted bit of romance.

The new kinky 'do appeared to be part of the film's narrative as the There's Something About Mary star looked as if she were sporting the messy style as a comedic prop. (Read More)