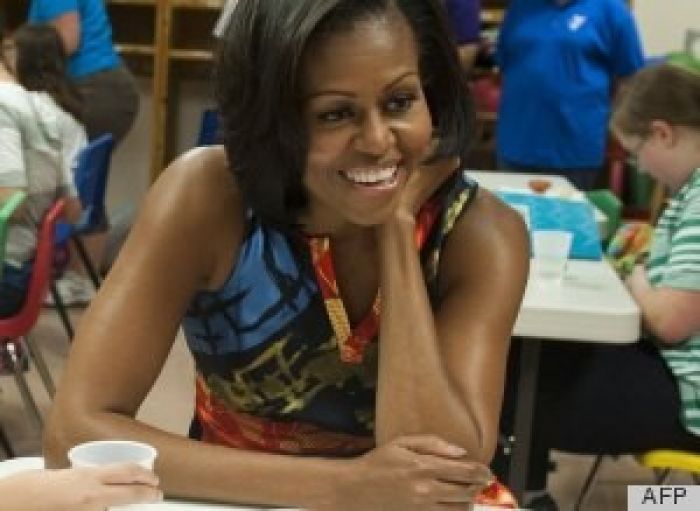 Courtesy Huffington Post
What's not to love about Michelle Obama's wardrobe? We have seen her on the campaign trails demanding the attention of thousands in her classic J. Crew threads and serving as the First Lady attending high-profile events in chic luxury-designer frocks. She seems to channel a modern-day Jackie-O and pulls off any event looking effortlessly poised, feminine and confident.
This week the campaign brought her to southern Florida to give a speech with her husband, who was more than thrilled to see his first lady after several days of absence. (She was looking like a power-player in a red dress cinched with a blue belt.) But is was this unannounced stop at the Life Sports Fitness life enrichment program at Fort Lauderdale's Holiday Park gym that had us admiring her versatile style.
In Ft. Lauderdale the First Lady arrived in a flattering multi-colored floral dress paired with a cardigan and beige flats, but something looked familiar to some keen eyes in the fashion industry. After a little research, it turns out that this is a favored Florida look for the First Lady having appeared in the same dress in Miami in 2009. But what's a recycled outfit without a few minor adjustments – for the debut of this frock she dressed up the look for the War Memorial Auditorium in front of 2,500 attendees, baring her arms and pairing the dress with bold, green heels.
The First Lady has some power fashion; that is evident. But what makes her a real woman is the ability to dress in realistic labels for any working mom and wife while still re-wearing her favorite items, even in the eyes of the often critical public. You go girl.