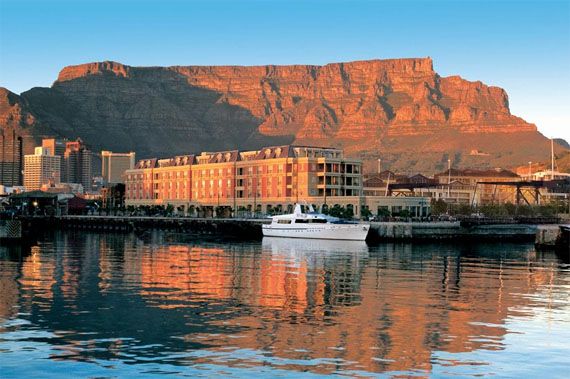 Photos Courtesy of Cape Grace
There's a reason
Cape Town
remains the number one city to visit in all of Africa. Despite a tumultuous history, Cape Town dazzles with its stunning backdrop of beaches, soaring mountains and pristine bays. The city is awash with modern buildings, lavish condos, and great mansions that grip the mountainsides. The natural beauty has long lured discerning internationals to adopt Cape Town as their second home. Some, though, can only visit. Here's my account of a recent stay in Cape Town in a marvelous property called Cape Grace.

Lots in a location: It was around midnight when my guest and I arrived at Cape Grace, after a long day of international travel. Surrounded by dark water and just a speckling of lights, it was hard to discern where we were exactly. Upon morning, however, I smiled, seeing the port below our window filled with bobbing sea lions and impressive yachts. One, a 56-footer, is owned by the hotel for guest's use! The sky behind the water and charming port houses were truncated by Table Mountain, Cape Town's most distinct natural feature. It appears as some massive dining table for heavenly gods of some sort, always set for fiery sunsets. Cape Grace is perfectly positioned on the Victoria and Albert Waterfront, a cosmopolitan area renovated in 2008 with over 200 dining, entertainment and shopping delights. I love an elegant hotel that puts the best of the city right on its doorstep!


Dining Delight: As Cape Grace likes to point out, via the words of Henry James, from The Portrait of a Lady, "There are few hours in life more agreeable than the hour dedicated to the ceremony known as afternoon tea." Inside Cape Grace's handsome library overlooking the waterfront, I had one of the most "agreeable" teas yet in my travel career. Loose-leaf teas brew slowly in a glass fitted pot and candle warmer, as scones, delicate tea sandwiches, and homemade cakes sit neatly in tiered silver trays. Enveloped by an enormous couch while scanning over the library, I thought, "What a way to end a perfect day."

Earlier in the day, my guest and I had a leisurely brunch in Cape Grace's Signal restaurant, led by Executive Chef, Malika van Reenen. I feel silly claiming that this breakfast, like the afternoon tea, is one of the best I've had, but it's true. I marveled at the offerings included in the cold breakfast (complimentary for all guests). Bircher muesli, creamy avocado spread for toast, shucked oysters from the water just outside, and raw honey dripping from the comb. In a word, outstanding. Or, one can opt for the hot breakfast. I was particularly temped by one item, the pancakes with caramelized apple and smoked pork belly. Signal, so called for Cape Town's Signal Hill from where cannon boomed daily at high noon, should not be missed. It's a local's favorite as well.


A Handsome Home: A walk throughout Cape Grace is mandatory. Recently refurbished by local interior designer, Kathi Weixelbaumer, each hallway, room and bathroom is a romantic homage to Cape Town's history, with a distinctly modern flair. Hand-painted murals, commissioned fabrics, and specialty metal frame chairs fill the property. Artifacts from the Dutch shipping days adorn walls and crevices. I adored our room's custom drapes and overstuffed ottoman and couches.

Along the lines of its custom décor, Cape Grace makes every stay a custom experience. I appreciated (and used) the complimentary chauffeur service that covers a five-mile radius. The concierge team certainly made quick work of arranging a few tours and interests I had. I was most pleased at how hard our server at brunch attempted to make a CD of the music playing, which I was fond of. It wasn't feasible at the time, but I recently received a copy in the mail!