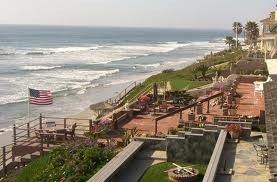 activerain.com
One of the many small seaside towns of California is Carlsbad. With it's ever growing community Carlsbad has a host of different things to do. From surfing, shopping, golf, and arts and culture you won't find yourself with a lack of things to do. Carlsbad sits right on the Pacific Ocean just a few miles north of Del Mar. This quaint little community has grown over the years to include elegant seaside bungalows and luxury resorts.
Maybe you might like to take in a little golf. There are several courses to chose from and a few of them have been voted the "best" courses in America. After a busy day on the links you may just want to indulge yourself by spending a few hours at one of the local spas. After all there's nothing wrong with a little pampering. Complete your day at one of the many local restaurants availble. They may range from a little roadside cafe to some of the best fine dining in southern California. There is a wide variety of different culinary cultures in this little town, so the choice is quite extensive.
Arts and culture are a large part of this community so be sure to browse some of the shops and view the local artisans beautiful creations. Just steps away from central Carlsbad are the fabulous flower fields (seasonal) to visit, skateboard parks, Legoland Water Park, and Sealife Aquarium just to mention a few.
You may also be interested in:
orangecounty.net
golf-courses.findthebest.com