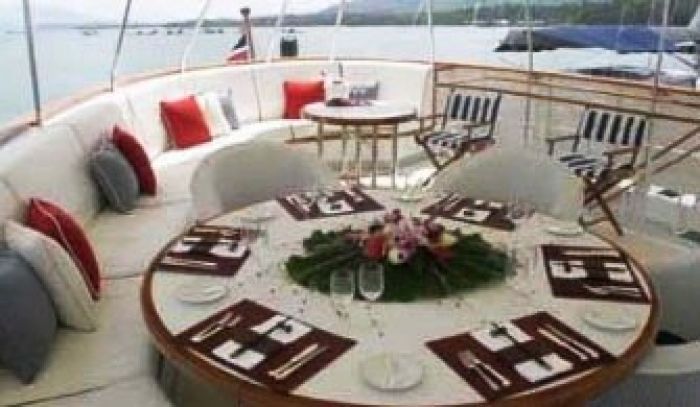 Photo by Maxine Simpson
Iconic casting is seeking participants for a new luxury yachting reality TV show called Below Deck. The show will take place in the Caribbean on a 140'-163', three-level luxury motor yacht, and guests who participate in the show will have their choice of itineraries.
Like most reality shows, there will be some challenges. It's not the guests who will be challenged, however, the crew will be challenged as they attempt to cater to the passengers' whims and demands on the luxury yacht. About six passengers will participate per episode, and each episode will tape for three days on sea. Elite yachting guests expect to be treated like royalty, and viewer will see the types of requests that are asked of a yacht crew.
According to Iconic the reality show will be the first to follow the workings of the charter yachting world. "Each episode will take viewers inside the fabulous world that few have ever seen – onboard the biggest and most beautiful yachts in the world," Brendon Blincoe, Head of Casting for Iconic Casting, wrote in a statement.
The crew for Below the Deck has been cast, but Iconic is searching for the travelers who are interested in chartering the yacht. Although information about the specific yacht has not been released, a yacht like that one in the show will cost at least $100,000 per week, and approved participates will charter the yacht at a significant discount. Iconic is looking for families, friends, co-workers or other millionaires who seek a luxurious vacation and plenty of wining and dining on a glamorous yacht.
The show is set to appear on a major cable network, and Iconic is a major player in the industry. The company has cast shows for VH1, MTV, NBC, Fox, E! and ABC. Examples of shows that Iconic has worked with include: For the Love of Ray J, I Love New York, Ochocinco: The Ultimate Catch and I Want to Work with Diddy 2.
For casting information, visit the Below Deck registration form. Photo by Maxine Simpson.