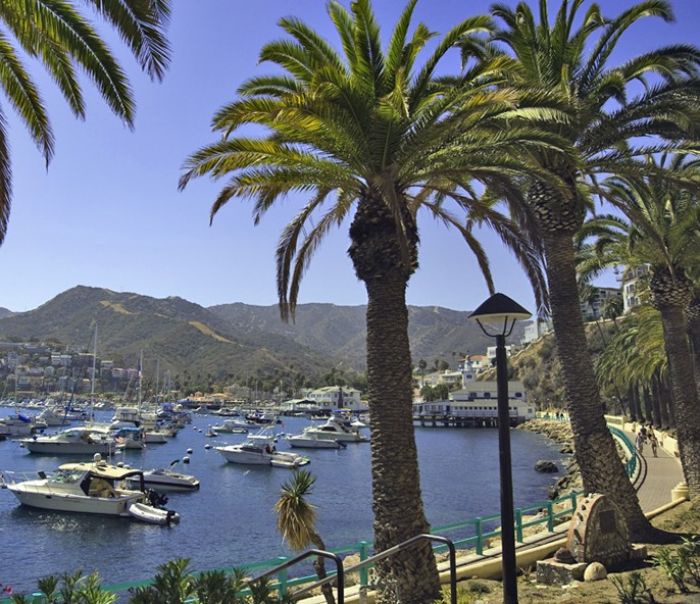 Copyright Catalina Island Chamber
Just 22 miles off the Southern California coast, Catalina Island has long been regarded as a Pacific paradise where families, romantics, adventurers and business folk go to stay and play. The island's idyllic small beach town charm is just a quick boat ride away from fast-paced city life. Whether venturing over for a day, weekend, or longer, Catalina Island is teeming with leisure and adrenaline-pumping activities suitable for adults and children alike.
I recently jaunted over to Catalina Island for a three-day family sabbatical where we enjoyed the perfect mix of lodging, lounging, learning, dining and entertainment. Below is a print-ready overview of our itinerary should you want to replicate the experience for your own unforgettable Catalina Island escape.


Day 1:

9:50am:
Depart to Catalina Island from Dana Point on Catalina Express
Catalina Express whisks you off to Catalina Island in just 60 minutes from Dana Point, among other ports of call that include San Pedro and Long Beach. The company's fleet of modern, high-speed luxury catamarans and mono hull vessels, offer a comfortable ride with airline-style seating both inside and out. Additionally, the boat offers large view windows where you can catch a glimpse of dolphins in their natural habitat and light refreshments available for purchase. The upper deck features a premium-priced Commodore Lounge, offering upgraded leather-trimmed seats, overhead storage, priority boarding and complimentary beverage and snack service. The upgraded Captain's Lounge seats up to 8 passengers or it can be used as a hostess center for larger groups. This option also includes priority boarding, plush upgraded seating, and complimentary beverage.


11:30am: Check-in for Three Nights at The Pavilion Hotel
Located just a five-minute walk or quick taxi ride from the dock where the Catalina Express disembarks, you will arrive at the newly renovated Pavilion Hotel. Its new design is now centered around the lush garden courtyard area that features semi-private lanais for the ground-level rooms accessed through large French doors. There are also public lounge areas off the courtyard, including a large fire ring and both closed and open-air, ocean-view lounges adjacent to the front lobby.
The boutique property, perfectly situated across from the beach and pier, has 71 rooms with two suite options, the latter being my accommodation of choice for the visit. All of the now upgraded rooms feature HD flat-screen televisions, iHome MP3 players, complimentary use of iPads and upgraded in-room coffee and tea service. The show stopper for the suites is the incredibly large, French door-accessible balconies overlooking the garden and spectacular ocean views. What I particularly loved about this property is that every booking comes with complimentary daily continental breakfasts as well as a late afternoon wine and cheese event that is quite the draw.


1:30pm: Play mini golf at Golf Gardens
Located just off of the Tour Plaza and a mere block off the waterfront, Golf Gardens is a great way to spend the afternoon. This appropriately challenging 18-hole mini golf course attracts players of all ages and takes about an hour to play all of the holes. Immersed in plant life and with bubbling streams throughout, the course is very beautiful and serene. It is open daily, year-round.


4:30pm-5:30pm: Complimentary Wine and Cheese Happy Hour at the Pavilion Hotel
As mentioned above, this happy hour event takes place each evening at the open-air lounge and features an assortment of wine and cheese that can be enjoyed as dusk sets in. It's a wonderful way to get the evening started and also enjoy the spirited and communal atmosphere among the guests that this affair fosters. Of course, there are also non-alcoholic beverage selections for the kids!


6:00pm: Enjoy Casual Dinner at The Lobster Trap
Located one block away from the Green Pier, The Lobster Trap is a casual eatery that features fresh seafood fare as well as appetizers, poultry and beef entrees, sandwiches and pasta. There is even a menu for the kiddos with all their favorites! During the summer, Friday and Saturday nights feature live music to accompany your meal.


Day 2:

8:00am: Take Advantage of Complimentary Continental Breakfast at the Pavilion Hotel
This Continental breakfast is decidedly well done with a surprisingly broad selection of fresh fare. Offerings include pastries, muffins and breads, hard boiled eggs, peanut butter, and exceedingly fresh fruit (the juiciest mangos I've ever had). The restaurant also has fresh juices, Starbucks coffee, and milk. This is a great way to fill up and fuel up for a busy day around the Island!
11:00am:
Santa Catalina Island Company's Undersea Expedition Semi-Sub Tour Expedition
The tour leaves from the Green Pier and takes about 45 minutes. Children and adults will love traveling five feet under water in this semi-submersible boat's climate-controlled cabin with windows around the perimeter. Here passengers revel in the beauty of Catalina's marine life. This undersea adventure reveals all kinds of ocean dwellers, including sharks and sea lions, and even comes with a colorful Fish Finder Guide to help accurately identify the various types of fish encountered. An informative guide also conveys interesting facts about Catalina and its ocean environment throughout the tour.


12:30pm: Treat Yourself to Ice Cream and Saltwater Taffy at Lloyd's of Avalon
When it's time for a little energy boost or just simple indulgence, head over to Lloyd's of Avalon, a fixture on the island that's been around for decades. A big picture window provides a hypnotizing view of the taffy-making process in action, while the rest of shop is loaded wall-to-wall with all types of goodies, including a multitude of self-serve candy bins, an ice cream counter, caramel apples, chocolates, cinnamon rolls and much more.


2:00pm: Experience the Exhilarating East End Adventure
This two-hour tour provides an unprecedented view of the entire island, the ocean, and the surrounding nature scenes. You'll climb into an open air H1 Hummer and wind your way up to 1,500 feet above sea level to enjoy spectacular views all the way back to the mainland. The tour also includes rugged interior terrain and the opportunity to catch sight of local wildlife (like the majestic buffalo and mule eared deer seen during our tour), and stunning and fragrant trees, plants, and flowers of various types. You'll even stop by the Island's exciting Zip Line Eco Tour where brave souls propel down five separate zip lines dropping from 500 feet to 60 feet above sea level. Throughout the East End Adventure Tour, a knowledgeable and engaging guide drops fascinating factoids about nearly everything in sight from local businesses to bugs to the Island's rich history with the Wrigley family.


4:30-5:30: Return for more Bites at the Pavilion Hotel's Complimentary Wine and Cheese Event
It's time to get refreshed and shift gears for the evening's activities, and starting with a lovely wine and cheese plate (or two) is a fabulous way to start or to wind down after a busy day traversing the Island.


6:00pm: Casual Dining at Antonio's Pizzeria & Cabaret
As a fixture on the Island for nearly two decades, this family-style restaurant offers all the Italian pizza and pasta favorites plus steak, seafood and chicken entrees, burgers, soups and salads not to mention a menu just for the kids. Then there is the assortment of tempting desserts. The waterfront restaurant offers both indoor and outdoor seating that's a great place to people watch, gaze at the boats and watch the sea lions swim about.


Day 3:

8:00am: Fill up on the Complimentary Continental Breakfast
Get ready for the day with another delicious breakfast al fresco at the hotel as the Island starts to stir.


12 noon:
Lunch Overlooking the Ocean at the Descanso Beach Club
Located one cove past the landmark Casino Ballroom is the Descanso Beach Club, which is about a 15-minute seaside walk from the center of town. This ocean-based bar and restaurant offers casual beach fare like peel-and-eat-shrimp, salads, and burgers as well as signature tropical cocktails. The Descanso Beach Club is a great locale to sip a fruity libation, grab a bite to eat or bask in the beautiful Avalon sun and scenery while enjoying Caribbean-style music.


2:00pm:
Fishing off the Green Pleasure Pier
At the foot of Catalina Avenue is a 300-foot-long pier built in 1920.This is the perfect spot to enjoy fishing since gear is available for rent. Among other things, you can also rent paddle boats, outboard motor boats, and diving equipment as well as arrange other excursions like a Glass Bottom Boat Voyage from the pier.


4:30-5:30pm: Wine and Cheese Hour at the Hotel
Time to enjoy one last go at all the delicious cheeses, wine, and drinks. Selections change nightly, remaining interesting each and every time.


6pm:
Enjoy an upscale dinner at Avalon Grille
This popular Avalon eatery features American regional dishes with a seasonal menu where everyone in the family is sure to find something they love. Pick your spot on the outdoor patio to enjoy the scenery, or sit indoors in the elegant yet cozy dining room as you recount the wonders of your Catalina adventure.
On the evening of my family's visit, our spectacular starters were the Roasted Brussels Sprouts with cranberries, almonds, pancetta and honey mustard. We also tried the Black Mussels served with roasted garlic in a savory broth and served with grilled ciabatta bread. Our entrée selections consisted of the cooked-to-perfection Grilled Pacific Salmon plated with roasted fingerling potato and a fennel purée topped with an orange vinaigrette; amply portioned Shrimp and Mussels Scampi atop pasta tossed in a garlic-laden tomato sauce; and a to-die-for Scallop with Wild Mushroom Risotto. For dessert, the decadence continued as we sampled the Warm Flourless Chocolate Cake with Cabernet berries; Vanilla Bean Cheesecake served with a citrus syrup and raspberry coulis; Port Wine Poached Pear with Sable cookie and ricotta mousse; and the fabulous Caketini comprised of orange spongecake, poached black berries, and cr?me anglaise drizzled with chocolate sauce. It was sweet ending to the perfect weekend getaway!


Day 4:

9:45am: Depart from Avalon to Dana Point on Catalina Express
Settle in to a comfortable seat while the boat whisks you back to reality. Even though our vacation was brief, this itinerary provided the perfect balance of relaxation and revelry. And, while much ground was covered relative to the Island's family-friendly activity options, the destination offers so much more. There are a wide range of day and night tours and activities to suit everyone's interests, including golf, the casino, copious expeditions, rock climbing and a wide selection of divine dining. No matter how you choose to spend your time on Catalina Island, it's sure to be a retreat to remember.
Copyright Catalina Island Chamber
Copyright Catalina Island Chamber of Commerce
Copyright Santa Catalina Island
Copyright Santa Catalina Island Company
Copyright Santa Catalina Island
Copyright Santa Catalina Island Company
Copyright LuxeListReviews.com
Copyright LuxeListReviews.com
Copyright LuxeListReviews.com
Copyright LuxeListReviews.com
Copyright LuxeListReviews.com
Copyright LuxeListReviews.com