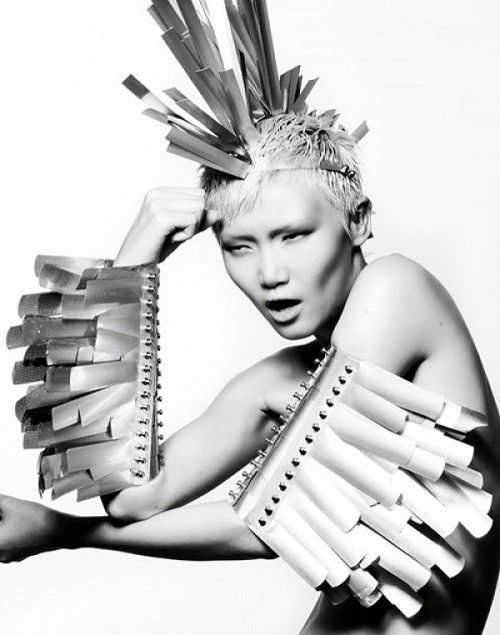 "Avant-garde fashion is art. When you style fashion editorials, the goal is to make people want to buy the clothes in the editorial. When you style avant-garde shoots, the goal is to make art." – Beagy Zielinski
I couldn't have said it better and more succinctly than Beagy Zielinski, the avant-garde fashion stylist who's worked with such luminaries as Tyra Banks, Carson Kressley, and Andre Leon Talley, as well as luxury designer labels the likes ofChristian Dior, Versace, and Roberto Cavalli.
Zielinski's work has appeared in numerous international glossies from east to west, including Prestige Hong Kong, Harper's Bazaar China, Spanish Elle, and German Vogue. The editorial that first caught my eye was an avant-garde photo shoot featuring Asian model Gwen Lu, photographed by William Lords. I became a fan of her work right then and there.
Like making art, working on avant-garde assignments satisfies Zielinski's fantasies and helps her escape from the sometimes crude and rigid realities. "When shooting avant-garde, I feel free. It's like living a fantasy and getting to bring that fantasy to life," the stylist tells me. "There are no rules. The possibilities are endless and I can express my art in a pure way."
Zielinski's Inspirations
You need to be creative and inspired when you make art. So, from where does Zielinski seek inspirations? It turns out, inspirations are everywhere. You just have to be aware of your surroundings and keep an open mind. "I'm inspired by life for all of my work," she remarks. "I find inspiration in people, places I travel to, buildings, art, and even colors or wildlife."
"Sometimes I see something random, like a bird, and I can think of an entire shoot concept, including hair, makeup, location, wardrobe, mood, and model type.
"I'm inspired by things most people overlook. I like to sit in a park or in a crowded place and watch. Eventually, something always inspires me."
L'Armoire Du Styliste
Just because you're inspired doesn't mean you can find the props and pieces to materialize your vision. To fill this void, Zielinski founded L'Armoire Du Styliste, a New York-based "super studio" that sources avant-garde couture pieces from Paris, Spain, London, and Australia, renting them to fellow stylists and editors who desire unique items for their shoots.
Advice for Aspiring Stylists
Given Zielinski's dedication to avant-garde art, you'd probably expect nothing less from her personal style. Instead, the styling artist opts for a clean and minimalist aesthetics when it comes to dressing herself. "I think no matter what you do, what you wear is an expression of who you are and how you feel," opines Zielinski. "No one can tell you what you should wear or look like but you."
In essence, Zielinski tells you to be yourself. Unless you want to, you don't have to don bold and outrageous clothing. It's not a requirement for being a stylist. Let your work speak for yourself.
And if you want to make it in the cutthroat industry, Zielinski shares the top three abilities you must possess:
1. Be organized. As a stylist you have to manage A LOT of moving parts, pulling from more than 20 different places around the world for a single shoot and making sure everything gets back to its rightful owner on time and in good condition. You also have to manage budgets, assistants, hundreds of emails and requests, and often multiple projects all at once. Organization is key.
2. Have a clear vision. It's a competitive business. Having a clearly defined vision and aesthetic that shows you can bring something different to the table can set you apart from the bunch. Otherwise, you'll get lost in the bunch.
3. Be fearless. Don't be afraid to take risks. Styling artists have to try new things in order to break new ground. If you always do things the way they've always been done, or the way you were taught, you'll never explore your full artistic potential. Yes, you'll make mistakes along the way, but that's okay; learning from your mistakes is part of the process.
Got a story idea? Contact me.
Beagy Zielinski