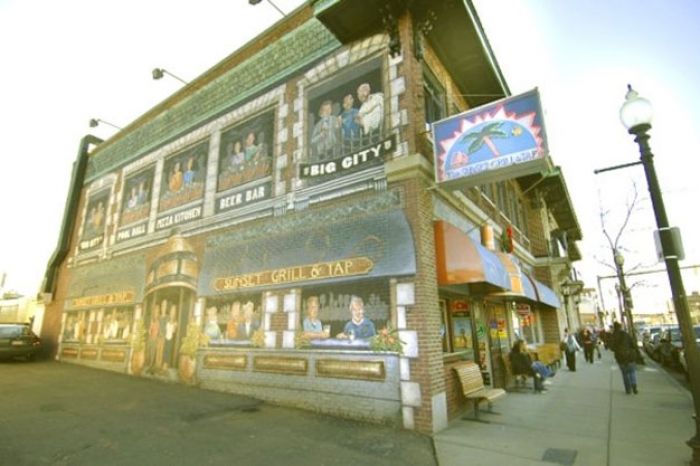 Photo Courtesy of Sunset Grill
Itís almost Cinco de Mayo and we have just the place in mind for you to celebrate this year. Introducing
Patronís Mexican Kitchen and Watering Hole
in Allston. Located just outside of Boston and upstairs from Marc Kadishís famed Sunset Grill & Tap, the newly opened Mexican restaurant offers some great eats like $4 margaritas to go alongside a $4 menu that includes tacos (fish, mole pulled pork, chicken), sloppy Papas and BBQ carnitas tostadas.
Photo courtesy of Sunset Grill
The former Big City pizzeria and pool hall still boasts some memorabilia from its prior self, but the newly formed Patronís focuses on lengthy tequila and mescal lists, a taste of the Mexican border, and the same great beer list found at Sunset Grill below. Renovations to the space now include two fireplaces, leather mini couches and flat screen TVs. While four Big City pool tables remain, they have also added new foosball tables as well.
Get the party started with a Big City margarita made with jalapeno tequila and get an order of four flaky empanadas filled with roasted chicken and corn served with a side of salsa. The habanero hellfire wings werenít quite as hot as we thought they would be, but they were extra meaty and plentiful. Our friendly and knowledgeable server Gerrica made sure our drinks were always full and our food served to our liking.
Photo credit: jutamas/Shutterstock
Moving right along, we sampled the overstuffed chicken burrito with black beans and the chile rellenos with black beans and rice. Other dishes include a good variety of tacos, burritos, enchiladas, quesadillas and fajitas, as well as chicken mole, rellenos carnitas and Pescado Mexican stew. (The cerveza beer steamed gringo burger and beer B-Q pulled pork carnitas are on our radar for next time). And no visit here would be complete without a sampling of sugary churros with creamy vanilla ice cream.
Note: The restaurant is very popular with the 20-something crowd so be sure to arrive early if you want to avoid long lines and a loud atmosphere. Patronís Mexican Kitchen & Watering Hole is located at 138 Brighton Avenue in Allston.