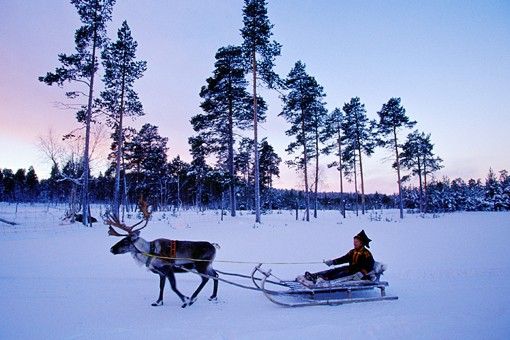 In the hustle bustle of everyday modern life, the rarities are what we value most, such as space, quiet and time. Find these treasures in Finland, where you can reinvent yourself by indulging in the peaceful pleasures around.
Finland is the land of Four Seasons, the land of Midnight Sun & winter darkness. It is the land of peculiarities like hiking in the taiga forest in Finnish Lapland, or taking a boat ride in one of the country's 187,888 lakes. It is the country where you can go downhill or cross country skiing, go on a dogsled or skimobile safari, or even indulge in some ice skating or ice fishing. The variety of unusual experiences is sure to leave you spell-bound.
The capital city, Helsinki, is known for its art, architecture and modern design. In fact, the city has been named the World Design Capital for 2012. Do not miss Finlandia Talo; this stunning concert hall is open for tours. Spend your time in Helsinki exploring the Museum of Contemporary Art Kiasma. Helsinki offers skaters real snow and very cold temperatures. Ice skating is taken pretty seriously in Finland and the outdoor ice rink in the capital's Ice Park is gigantic and has a vibrant atmosphere. Getting around the city's various attractions by driving around is hassle-free and Finland's road network is excellent and well signposted. Though car rental in Finland is more expensive than elsewhere in Europe, the scenery along the drive is worth every penny.
Then, it is the time to head out of the city to the Aland Islands. An archipelago of islands, which can be found between Sweden and Finland, will be your answer to ultimate tranquility experience. Go island hopping when you have a total of 6,500 islands to choose from. Aland is small and pretty, but it is also vast. Some islands are close together, while others are far off in splendid isolation, with only the sea for company. Explore the island on a cycle or on foot. Picturesque red wooden houses and green meadows with sheep and cows spotting are part of a landscape. You can spend all day canoeing or kayaking nearby an uninhabited island without encountering another boat. A trip to Aland is a complete vacation in itself.
Bring out the kid in you or the kid with you. Instead of the boring regular Christmas you spend every year, this year experience a fairy-tale Christmas in Lapland. Ride the reindeer driven sleighs or a snowmobile, snowshoe walk to your cozy log cabin and of course meet Santa in a personal one-to-one. Lapland is cheaper and easier to get to than ever before, so now there really is no excuse. The purity of the natural environment is a major part of Lapland's beauty and this can be seen in its many coniferous trees. The moss makes the trees look like a fairy tale forest from your child's picture book.
Just imagine what it would feel like wrapping up in a warm sleeping bag, sipping on a hot chocolate and dozing off to sweet dreams in a room made of snow. For this amazing experience, stay at Hotel Kakslauttanen Saariselka - In winter they offer a possibility to stay in a traditional snow igloo, where you can admire the northern lights from under the snowy ceiling.
Do not miss: The winter months provide the best conditions to see the northern lights or aurora borealis in Finland. You're not always guaranteed to see them, but if you are among those lucky few, on a clear evening, you could witness this incredible display of nature.