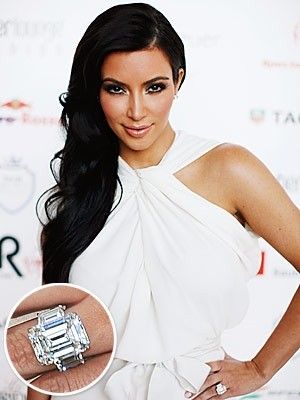 So the tradition is the man is supposed to save up three month's wages to spend on an engagement ring right? Well if you are on a wage like some of the celebs these days, you can imagine the absolute rocks some lucky ladies get to sport on their wedding finger! With every celeb engagement, the rings just get more and more extravagant, and here's a look at some of our favourite picks of the celeb's betrothal beauties!

Kim Kardashian's Corker
When you are trying to tie down a stunning and stinking rich lady like Miss Kim Kardashian, no expense can be spared. Her new now hubby Kris Humphries invested a rumoured $2 million on the bling to secure Kim's hand in marriage, which boasts a 16.5 carat diamond with two 2 carat diamonds either side.  
Kate Middleton's Royal Rock

Being the Duchess and future Queen of England, no expense was expected to be spared on this famous wedding. The engagement ring is a stunning vintage design, with a large blue sapphire framed by diamonds, and was famously worn by Prince William's late mother Princess Diana. The ring may only be worth £300,000 in money, which doesn't sound a lot compared to other extravagant rings, but in reality this stunning regal ring is priceless.

Beyonce's Beauty
Jay-Z liked it and he certainly put one hell of a ring on it when it came to wedding his long term partner Beyonce Knowles. The stunning singer received an 18 carat flawless emerald cut diamond from Lorraine Schwartz, one of Beyonce's favourite jewellers, costing $5 million!

Mariah Carey's Pink Perfection
When Nick Cannon wanted to make Mariah Carey Mrs Cannon, he knew just what would do the trick. The girly singer loves her pink, and an emerald cut diamond with a distinct pink hue, worth $2.5 million from Jacob Arabo, was the perfect piece to make Mariah swoon. 
Hilary Duff's Not-So-Dainty Delight
When Hilary Duff's American football player partner Mike Comrie saved up his three months wages, it got her a stunning 14 carat princess cut diamond engagement ring worth no less than $1 million.
Khloe Kardashian's Keeper

Not quite the rock her sister Kim received from Kris Humphries, but Khloe Kardashian's engagement ring is not to be sniffed at! Her 12.5 carat radiant cut diamond engagement ring set fiancé Lamar Odom back a staggering $850,000. He's a keeper Khloe!
Kate Hudson's Not So Humble Rock
Muse star Matthew Bellamy's choice of engagement ring for his actress fiancé Kate Hudson may seem humble in price compared with the rest in this article, costing him 'just' $250,000, but it certainly isn't humble in appearance. The platinum set emerald cut diamond is still whopping 9 carats, and we know plenty of ladies (including us!) who wouldn't turn that down, or less!
If you are looking for something equally as breathtaking but slightly less extravagantly priced for your engagement ring, take at the stunning collections from the fine and contemporary jeweller Astley Clarke.