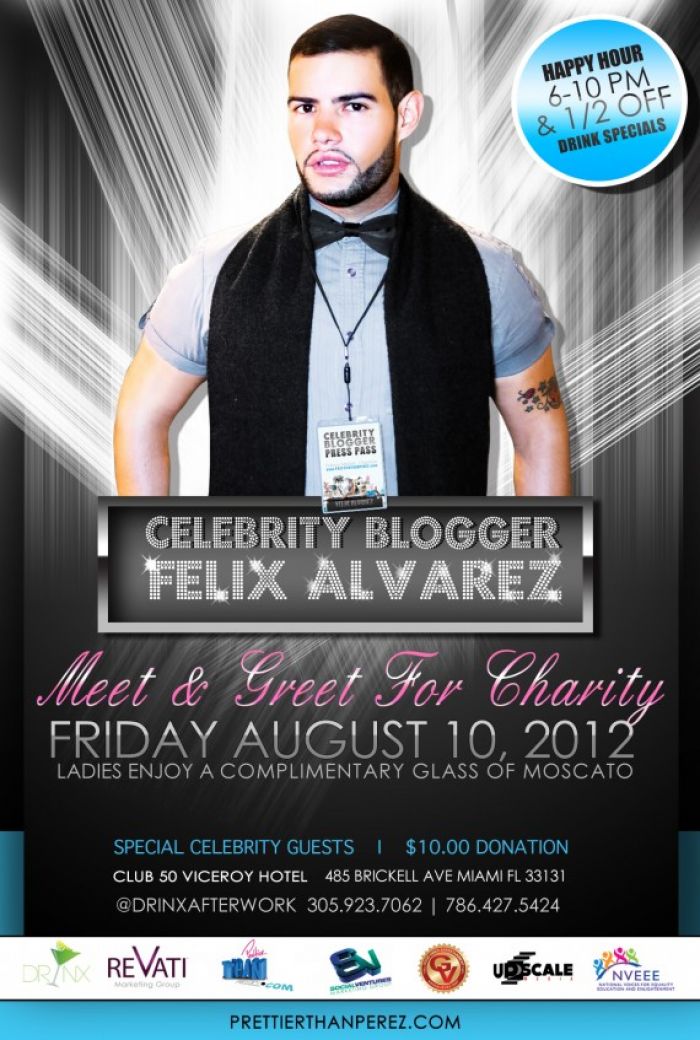 Casa De Rosa Photography
Felix Alvarez, Celebrity Blogger from PrettierThanPerez.com to host a Meet & Greet for Charity at Club 50 inside the Viceroy Hotel, Friday August 10, 2012.
Miami, FL (July 28, 2012) - Celebrity Blogger, Felix Alvarez to host Meet & Greet Event for Charity on August 10, 2012 from 7:00pm-10pm. Event will take place at Club 50 inside the Viceroy Hotel, 485 Brickell Ave, Miami, FL 33131. Donation is $10.00 and all proceeds will go to local, anti-bullying organization, National Voices for Equality, Education & Enlightenment (NVEEE).
The Meet & Greet aims to raise awareness of Felix Alvarez's special connection to anti-bullying and anti-suicide efforts as well as his support of local charity, NVEEE. The actor & blogger will deliver a speech on how he has been deeply impacted by both plights. "Bullying isn't something to be ashamed of or afraid of. You need to speak up..." says Felix. Taking inspiration from his personal life, he has decided to actively participate in anti-bullying and anti-suicide organizations on a local and national level. Felix also wanted his entertainment blog to reflect his personal beliefs, "I wanted to do it in a different way because I was bullied and celebrities are constantly getting picked on. I wanted to highlight the positive things in their careers and life." For more on his entertainment blog visit www.PrettierThanPerez.com.
Felix Alvarez picked the National Voices for Equality, Education and Enlightenment (NVEEE) as the benefiting organization for his event because of their ties to the local community and their hands-on approach to change.
The event is sponsored by Drinx After Work, REVATI Marketing Group, PrettierThanPerez.com, Good Vibes Entertainment, SV Marketing & Upscale Media. Drinks will be half off from 7:00pm-10:00pm during the Meet & Greet event.
About Felix Alvarez
Felix Alvarez is a celebrity blogger that covers entertainment news in a positive way. His unique approach to blogging has made him a favorite among celebrities such as Joseline Hernandez from the top-rated VH1 Reality show, Love & Hip Hop Atlanta. A strong supporter of anti-bullying & anti-suicide campaigns, Felix decided to incorporate this idea into his blog. His website, www.PrettierThanPerez.com has a strong anti-bullying position and zero-tolerance for online bullying behavior. He is now part of various anti-bullying campaigns in the local community and looking to work with many more on a local and national level.
About National Voices for Equality, Education and Enlightenment (NVEEE)
NVEEE is a community-based 501(c)(3) nonprofit established in October 2009. Their mission is to prevent bullying, violence and suicide among youth families and communities through direct service, mentoring and prevention education. They are a diverse team of professional educators, business leaders, parents and students who took their concerns about student safety and well-being and put their passion into action–moving from bystanders to community leaders.
NVEEE has reached nearly 10,000 teachers, students, parents, and community leaders through their Mentoring Program, Peace Ambassador Program, After School Program, and their signature "Not On My Watch" School-wide Bullying Prevention Programs. They were honored in Washington D.C. by Congresswoman Frederica Wilson with a Proclamation entered into the Library of Congress and the Congressional Records of the United States for their work in providing children and families with support services, and being "agents of change."
Headquartered in Ft. Lauderdale, with offices in Miami, NVEEE directly impacts the South Florida community, and now their work is expanding to communities in California, Georgia, New York, North, Carolina, Texas, Virginia, Washington, DC and Puerto Rico. Visit http://www.NVEEE.org or call 1.855.2.BE.A.VOICE
Press Contact:
Francis Mariela, Sr. Comm. Manager
REVATI PR & Communications
REVATI Marketing Group
www.revatimarketing.com
francis@revatimarketing.com
(786)375-0350