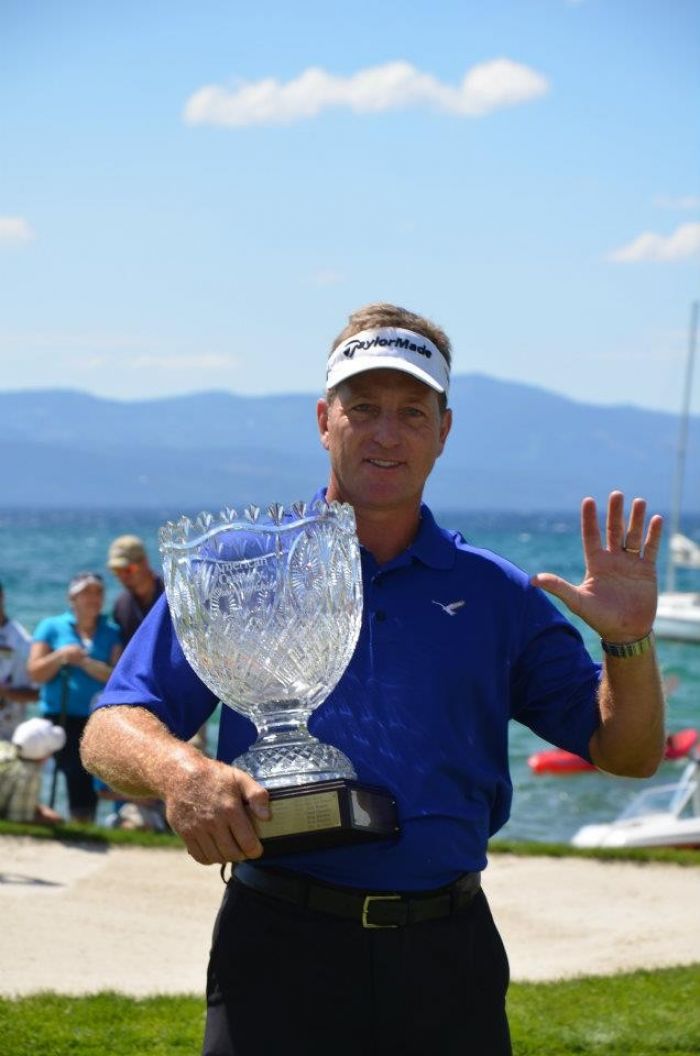 Photo © 2012 Sharon Gay
24th American Century Celebrity Golf Championship @ Edgewood Tahoe Golf Course July 19-21, 2013
By Sharon Gay

Twenty-eight year old Michael Fred Phelps II has retired from swimming and evidently taken up golf with a passion. Since the Olympic Champion retired from swimming he's played in pro-ams at the ARIA Resort & Casino's 12th Annual Michael Jordan Celebrity Invitational, Ryder Cup, and Phoenix Open. He currently stars on Golf Channel's "The Hank Haney Project," getting lessons from Tiger Woods' former instructor.
.
The American swimmer is the most decorated Olympian of all time, with a total of 22 medals.
.
Phelps is making his debut this summer at the 24th annual American Century Celebrity Golf Championship at Edgewood Tahoe Golf Course July 19-21, 2013.
.
Other new golfers in the tournament this year include San Diego Charges tight end Antonia Gates, Denver Broncos coach John Fox, Golden State Warriors forward David Lee, NASCAR's Michael Waltrip and Larry the Cable Guy.

Veteran golfers include Super Bowl veteran quarterback for the Green Bay Packers and the highest paid footballer in NFL history - Aaron Rodgers; Golden State Warriors superstar - Stephan Curry; Everybody Loves Ray Romano, America's favorite Celebrity Golfer - Sir Charles Barkley. John Elway, Olympic skier Bodie Miller will join other celebrities in the tournament hoping to win the beautiful Waterford crystal trophy.

Phelps recently played in ARIA Resort & Casino's 12th Annual Michael Jordan Celebrity Invitational at Shadow Creek In North Las Vegas in April. Michael Jordan declined the Lake Tahoe tournament this summer after being a fan favorite at many tournaments in the past.
.
Sports and entertainment celebs are teeing it up from July 16-21 at the American Century Championship - one of the world's premier celebrity golf tournaments now in its 24th year.

The event is owned by NBC Sports and sponsored by financial services company American
Century.
.
Fans that turn out to watch the event are rewarded with a stunning Lake Tahoe front venue - Edgewood Country Club, great food and drinks at Edgewood's award-winning 19th hole restaurant, Brooks Bar & Grill, friendly autograph signing with some of the biggest names in sports and some noteworthy musicians from Rascal Flats, comedian Ray Romano, and other actors and TV personalities.
Total Purse - $600,000
First Prize - $125,000
Second Prize - $50,000
Third Prize - $35,000
Winners
Rhoden is an eight-time champion
Quinn is a four-time champion
Tolliver is a three-time champion
Wagner is a two-time champion
Chandler is a one-time champion
This tournament has a $600,000 purse and live weekend telecasts by NBC Sports. To date the American Century Championship at Lake Tahoe has raised over $3 million for local and national charities.
.
NFL Hall of Fame QB John Elway won the first annual Korbel Hole-in-One Contest. and $5,000 was donated to Lake Tahoe Community College Foundation by Korbel.

Regular tournaments participants include Chris Chandler, Jack Wagner, John Elway, Charles Barkley, Jerry Rice and over 80 other sports and entertainment luminaries.
.
Last summer's tournament winner Dan Quinn, Ernie Els' part-time caddie and five-time total winner of the American Century Championship, is the top choice of Harrah's & Harveys Lake Tahoe Race & Sportsbook to win the celebrity golf tournament at Edgewood.
.
Among the other big-name players available for public wagering at Harrah's & Harveys Lake Tahoe: John Smoltz (5-1), John Elway (10-1), Jerry Rice (30-1), Ray Allen (40-1), Steph Curry, Chipper Jones and Aaron Rodgers (50-1), Alex Smith, Dan Quail and Michael Phelps (100-1), Steve Spurrier (200-1), and Shane Battier, Ray Romano and Urban Meyer (300-1). Charles Barkley is listed at 500-1.
.
Advance tickets are available online and daily during the tournament at the gate. Tickets are also available for sale at 127 Raley's, Nob Hill and BelAir locations throughout Northern California and Nevada.
.
NBC Sports and NBC Sports Network will televise the tournament live as follows:
.
Friday, July 19: 4 p.m. to 7 p.m. ET; 1 p.m. to 4 p.m. PT (live) on NBC Sports Network
Saturday, July 20: 3 p.m. to 6 p.m. ET; 12 p.m. to 3 p.m. PT (live) on NBC
Sunday, July 21: 3 p.m. to 6 p.m. ET; 12 p.m. to 3 p.m. PT (live) on NBC
Future Tournament Dates
2013: July 16-21
2014: July 15-20
2015: July 14-19
2016: July 12-17 (tentative)
Celebrity Golf 2013 List of Celebrity Players
Marcus Allen NFL Hall of Fame RB

Ray Allen NBA Guard: Miami Heat

Charles Barkley NBA Hall of Fame

Shane Battier NBA Forward: Miami Heat

Brian Baumgartner Actor: The Office

Jerome Bettis Former NFL All-Pro RB: Pittsburgh Steelers

Lucas Black Actor: Fast and the Furious

Martin Brodeur NHL All-Star Goalie, New Jersey Devils

Tim Brown Former All-Pro Wide Receiver

Joe BuckSports Anchor

Joe Carter Former MLB All-Star OF

Chris Chandler Former All-Pro NFL Quarterback

Vince Coleman Former MLB All-Star OF

Stephen Curry NBA PG: Golden State

Vinny Del Negro Former NBA Head Coach

Jay Demarcus Rascal Flatts: Bass

Trent Dilfer Super Bowl Winning QB

Jermaine Dye Former MLB All-Star OF

Herm Edwards Former NFL Head Coach

Bill Engvall Comedian: Blue Collar Comedy Tour

John Elway NFL Hall of Fame QB

Mike Eruzione Captain, 1980 US Hockey Captain

Marshall Faulk NFL Hall of Fame RB: Class of 2011

Grant Fuhr NHL Hall of Fame Goalie

John Fox NFL Head Coach: Denver Broncos

Éric Gagné Former MLB All-Star & Cy Young Winner

Troy Glaus Former MLB All-Star 3B

Goose Gossage Baseball Hall of Famer

Robbie Gould NFL All-Pro K: Chicago Bears

Trent Green Former NFL QB

Denny Hamlin NASCAR Driver

Penny Hardaway NBA All-Star G: Phoenix Suns

Rodney Harrison Former NFL All-Pro Safety

AJ Hawk NFL LB: Green Bay Packers

Trevor Hoffman Former MLB All-Star P

Sebastian Janikowski NFL Pro Bowl K: Oakland Raiders

Dan Jansen Olympic Gold Medal Speed Skater

Chipper Jones Former MLB All-Star 3B

David Justice Former MLB All-Star

Steve Kerr Former NBA G & NBA Broadcast Analyst

Larry the Cable Guy Comedian: Blue Collar Comedy Tour

Kenny Lofton Former MLB All-Star OF

Derek Lowe Former MLB All-Star PJohn Lynch Former NFL Pro-Bowl S

Greg Maddux Former MLB All-Star Pitcher

Fred McGriff Former MLB All-Star

Jim McMahon Former NFL All-Pro QB

Kevin MillarFormer MLB 1B and OF

Bode Miller Olympic Gold Medalist: Vancouver Super Combined

Mike Modano NHL All-Star Forward: Dallas Stars

Jamie Moyer MLB All-Star P

Mark Mulder Former MLB All-Star P

Kevin Nealon Actor/Comedian: Weeds, SNL

John O'Hurley Actor

Carson Palmer NFL All-Pro QB: Oakland Raiders

Michael Phelps 18 time Olympic Gold Medalist

Dan Quinn Former NHL Center

Ahmad Rashad NFL Pro-Bowl WR: Minnesota Vikings

Rick Rhoden Professional Golfer, Former MLB All-Star Pitcher

Alfonso Ribeiro Actor: Fresh Prince of Bel Air

Jerry Rice Former NFL All-Pro WR

Aaron Rodgers Superbowl MVP, NFL QB: Green Bay Packers

Jeremy Roenick Former NHL All-Star

Ray Romano Comedian/Actor: Everybody Loves Raymond

Joe Don Rooney Rascal Flatts: Lead Guitarist

Mark Rypien Former All-Pro NFL QB

Bret Saberhagen Former MLB Pitcher/World Series MVP

Joe Sakic Former NHL All-Star Center, Colorado Avalanche

Detlef Schrempf Former NBA All-Star Sterling Sharpe

Former NFL All-Pro WR

Kelly Slater Former NFL All-Pro Surfer

Alex Smith NFL QB: San Francisco 49ers

Emmit Smith NFL Hall of Fame RB

Mike Smith NFL Head Coach: Atlanta Falcons

Ozzie Smith Former MLB All-Star SS

John Smoltz Former MLB All-Star Pitcher

Steve Spurrier Univ. of South Carolina Football Coach

Ryan Succop NFL K: Kansas City Chiefs

Joe Theismann Former NFL All-Pro QB

Billy Joe Tolliver Former NFL QB

Brian Urlacher Former NFL All-Pro LB

Jack Wagner Actor: Melrose Place

Tim Wakefield Former MLB All-Star P

Michael Waltrip NASCAR Driver

David Wells Former All-Star Pitcher

Gary Williams Host: Morning Drive