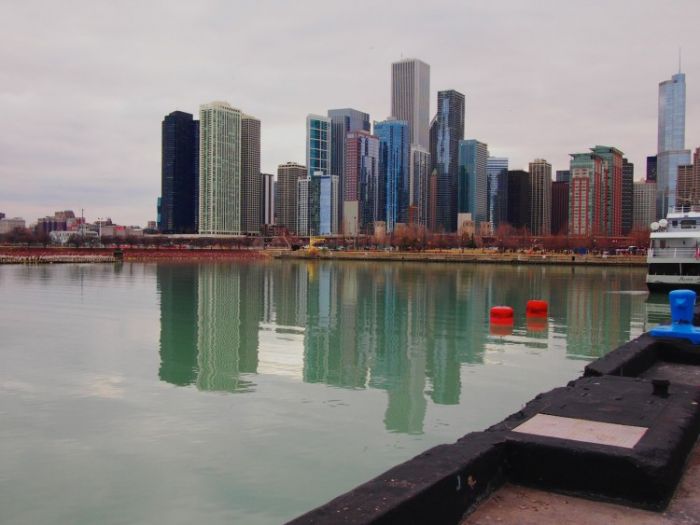 Columbia Hillen
With people as different as President Barack Obama and gangster Al Capone linked closely to it, it's not hard to imagine how diverse Chicago must be.
And its reality lives up to its reputation.
From skyscrapers such as the John Hancock Building and the Willis Tower offering exhilarating views over the cityscape to excellent art and history museums, theaters, restaurants, major sports stadiums and endless shopping opportunities, the Windy City caters to most tourists' whims.
Having spent five nights recently staying at The James (http://www.jameshotels.com/chicago/) and The Talbott hotels (https://www.talbotthotel.com/), I left feeling I didn't have quite enough time to see it all. What I did see and experience, however, left me wanting to visit again soon.
Being a theater lover, that was my top priority. And I wasn't disappointed. A quick flick through the pages of Time Out and the Chicago Reader leaves one spoiled for choice, from musicals to comedies to classic Shakespeare, the latter often with new and creative twists to revitalize old, faded plots. 
With both playing pivotal roles in the evolution of theater on both a local and national scale, The Auditorium Theatre of Roosevelt University (http://auditoriumtheatre.org/wb/) and the Goodman (http://www.goodmantheatre.org/) were my obvious first choices. Luckily for me, the shows that particular week could not have been more different – the cavernous and historic Auditorium presenting the colorful musical extravaganza, 'Priscilla Queen of the Desert' (see full review on my site) and the Goodman hosting a modern version of 'Measure For Measure' with the Stratford Bard's yarn (transplanted to a dark, corrupt late-1970s New York in a performance peppered with dark humor amidst overriding menace. 
Keen to see an off-central show, my companion plumped for 'Completeness' at Theater Wit. Written by Itamar Moses and directed by Jeremy Wechsler, it involves a love story between two rather awkward and nerdish types at a university, computer-science grad Elliot and molecular biologist Molly. The idea has strong potential and the obvious scientific research in the writing is impressive but tighter editing aka 15-minutes shorter would make an enjoyable show even better. Actors Kristina Valada-Viars and Matt Holzfeind deserve strong kudos, especially for their mastery of the science jargon (http://www.theaterwit.org)
The highlight of our theatre watching, however, was undoubtedly 'Othello: The Remix' at the Shakespeare Theater in Navy Pier, (http://www.chicagoshakes.com/) a captivating musical hip-hop-rap-R&B version of the 400-year-old classic under the writing and direction of the Q brothers, Jeffery and Gregory Qaiyum (Iago), which had its world premiere at none other than the Globe Theatre in London. The fast-paced pulse and rhythm of the words was infectious and intensely absorbing as was the constant onstage crisscrossing of the main actors, Postell Pringle (Othello) and Jackson Doran (Cassio), who, dressed in mechanics jumpsuits, are ably supported by DJ Clayton Stamper.
Performances of a very different kind were the Blue Man Group at the Briar Street Theater (http://www.blueman.com/tickets/chicago/) and the well-known comedy improv at The Second City (http://www.secondcity.com/). Though more suitable for a raucous younger audience, the intense combination of flashing lights, colored dyes and pounding music of the men in blue still provided enough creative innovation to enthrall and amuse us older folk.  Being the alma mater of such comedic luminaries as John Belushi, Mike Myers, Bill Murray, Gilda Radner and John Candy, The Second City has created a worldwide reputation since it first opened its doors in 1959. Indeed, such a reputation that it's hard to get tickets unless you book well in advance, which is why we had to settle for E.T.C Theater, the second Second City stage, for the award-winning 'We Are All in This Room Together.'  However, if the regularity of our laughter at the antics of the quartet of performers onstage was a fair indication, our enjoyment was none too diminished by that.    
This was our hectic evening schedule. Our daytime one was shared between museums, art galleries (yes, I managed to escape my wife's shopping sprees, much to her relief) and general sight seeing. Fortunately, our hotels were within a block of Michigan Avenue so we made frequent use of our two-day ticket with the Chicago Trolley & Double Decker Co. (http://www.coachusa.com/chicagotrolley/), an excellent way to see the whole city, picking it up at the nearby Water Tower and stopping at various points along the way.
Through dedication and frequent reference to the floor map, we succeeding in seeing most of the 20 million objects the Field Museum of Natural History currently holds (just kidding). We did, however, thoroughly enjoy the dramatic 3D movie, 'Waking the T. rex: The Story of SUE,' focused on the museum's favorite character, a lady who has 'lorded' over 16 million visitors in the Stanley Field Hall for years. This show provides a faithful depiction of animal survival at that time, it's not for the faint-hearted. Two special exhibits also attracted our attention – an extensive replica of the caves of Lascaux, France, explaining how the ancient paintings were discovered; and 'Creatures of Light: Nature's Bioluminescence,' a fascinating study of insects, animals and fish that create their own light to help them in the battle for survival.
It's well nigh impossible to visit Chicago without spending a few hours in the venerable Art Institute (http://www.artic.edu/), and pat the two ferocious-looking lion guards on the head out front (again just kidding). Housing the third largest art collection in the US on several floors, it is best to have an exact plan in mind before or soon after entering, otherwise the difference between Magritte, Manet and Matisse slowly dissolves into a blur. We didn't, but luckily for us, we obviously weren't the first visitors who don't routinely bid at Christie's Auction House. The museum has developed a concise 'Must-see' guide for idiots like us, so we swallowed our pride and followed it faithfully. And enjoyed it immensely. We also felt we should pop into the Museum of Contemporary Art (http://www.mcachicago.org/), just round the corner from the Water Tower, which hosted an exhibition with an intriguing title, 'Destroy the Picture: Painting the Void, 1949–1962'. This focused on a significant development in contemporary abstract painting: the artist's literal assault on the picture. Responding to the physical and psychological destruction caused by World War II, artists ripped, cut, burned, and affixed objects to the canvas in lieu of paint.
Having seen the Windy City by foot, we thought it might also be interesting to see it by air, so we joined the snake-like line of people waiting to ride the elevator up 110 stories to view it from the top of the Willis Tower (formerly the Sears Tower). It being the tallest building in North America and its Skydeck observatory offering a look-see from 1,353 feet (412 meters), it provided momentary, I mean momentous, entertainment, as did the John Hancock Building, through the wait here, thankfully, was much shorter.
While Chicago offers scores of leisure options, one rather off-beat thing to do is make your own perfume and no better place to do so than the Aroma Workshop (http://www.aromaworkshop.com/) in the Lincoln Park area under the able guidance of Missourian, Tedd Neenan (see separate story on my site).
Columbia Hillen
Art Institute of Chicago
Columbia Hillen
Columbia Hillen
Columbia Hillen
Field Museum
Columbia Hillen
Paul Natkin