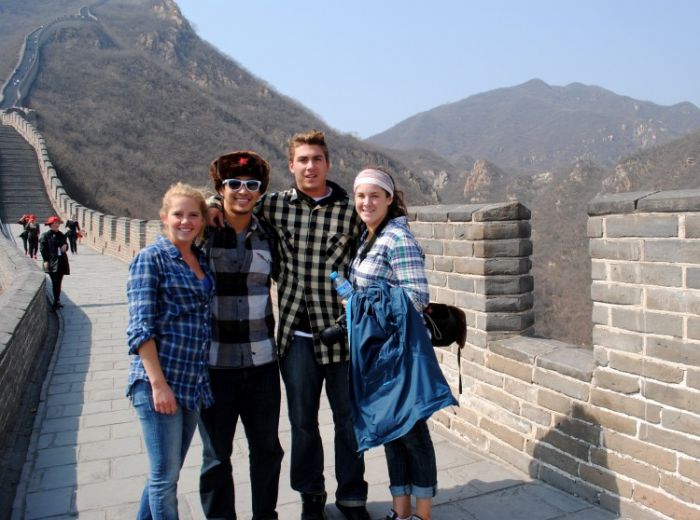 casey mcgrath
Day 1: Hong Kong
We got cleared to get off of the boat, and Andrew's dad and girlfriend were meeting him in China, so our group of friends spent the entire day with his father. His dad pampered all of us with every single meal. We started out with a Dim Sum restaurant, and then walked around a bit. We wanted to go to a market place, so we listened to Ben (being as he was born in HK) but we ended up at a random business park. Haha! Then we got back on the subway and took the subway to the Hong Kong Stadium where the HONG KONG SEVENS WORLD RUGBY TOURNAMENT was happening. It was like Halloween. Everyone was dressed up in crazy crazy costumes, and we walked around the stadium for a bit. We walked back to the subway because we wanted to go up to this one building on a mountain where you could see all of HK. It was so pretty to see all of the buildings and the skyline at night. We went back to the hotel and had a bottle of champagne to celebrate Andrew's 21st (because his father wasn't there for it) and then he took us out to dinner. We went to a really nice steakhouse and it was SOOOO good to have a change of pace. The food was awesome. After dinner there was a street next to us called LKF street where all of the bars were located, so the eight of us went out to the street. It was madness. Since the rugby sevens were going on, everyone who was there from every country were partying, talking, dancing, all lined up on the street. The bars played music really loudly so everyone was singing the same song down the street (dad, you should have heard sweet caroline. It was practically like being in the boston stadium it was so loud from everyone screaming it so loud!) I'm sitting with my friend brad (who I'll talk about later) and we both think there were easily thousands of people on that street. we ran into a bunch of other SAS kids, and then we headed back for the night. Ben and I went back to the boat, but Andrew, Adam, Ashton and Missy went and stayed in the hotel.
Day 2: Hong Kong
Ashton and Missy came back to the boat to change, and we decided we wanted to do a bit of shopping. The first street we came upon really reminded me of New York City. The stores were all brand name and our mouths just dropped because of how long the street was and how many stores there were. We went into a little Chinese restaurant and ate lunch. The restaurant was pretty high, so it overlooked the harbour. I think this is the sport I spent the most on food. We were eating all of the time. It was SO good. It was time for ashton and missy to catch their flights, so we went back to the boat. I got my computer and went to an internet café to put some pictures online, but it was too slow and didn't work. When I was trying to upload pictures, I ran into Colby and Brad who I was spending the next six days with. We went and got our things, picked up Katie, and then headed to the hotel. the boat headed for shanghai so we had to get a hotel if we wanted to stay in HK for the night. We got to the hotel and got settled in, but they only had one supersized king bed so we all were going to have to squish in one bed. We went out for Thai food, which was delicious, and then went back to get ready to go out for the night. We went back to KLF street, and this night it was super exciting. There were no other semester at sea kids, and the rugby matches were over (New Zealand won), so all of the rugby players were on the street as well as the thousands of people, so I got to meet people from tons of nationalities. We were all separated from each other, but we had a meeting place if we got lost. I ended up meeting players from the new zealand rugby team. They were surprisingly really cool people. I say that because I met other rugby players and they were COMPLETE jerks because they knew they were attractive and had the biggest attitudes ever (especially the Australian team). After about two hours of hanging out with the New Zealanders I went to our meeting place and ended up finding Colby. We waited about twenty minutes and then decided it would be good to go back to the hotel because we couldn't find Katie or Brad. When we got to the hotel, Brad opened the door for us and then went and passed out on the floor. Colby went back out to find Katie, and I went to bed. Katie and Colby came back a while later, so the three of us fit comfortably in the bed. That bed was the fluffiest bed, it was so nice to not be in a boat bed.

Day 3: Macau
We woke up around 8AM and went to breakfast, and then bought tickets to take a boat into Macau. Macau is basically the Las Vegas of the world. There is so much gambling and the hotels are INCREDIBLE. We caught the boat and ended up seeing some of the guys we had met the night before heading to Macau, so we got to hang out and talk with them for a little bit. It was about 45 minutes, and we all slept the whole way. When we got to the other side, we caught a bus to the MGM hotel, and then went and ate lunch in the hotel. It was a buffet lunch, and it was all Chinese food. I've never eaten so much duck. After we ate at the hotel, we headed to the Macau tower. From this tower you can see all over Macau, as well as Hong Kong on the other side. The other thing about this tower, is that it is the highest bungy jumping tower in the world. SOOO I went bungy jumping. (don't worry mom, I'll pay you back for it because you said I could only do it on my money). It was the most exhilarating experience ever. I wasn't really scared at all and didn't think too much about it wehen I got up there, but when I got to the edge and peered over, my heart skipped a beat. It was 764 feet high. I felt so safe though and I had them recheck that I was connected properly three times haha! When I jumped, my stomach turned over on itself. It was the most insane feeling ever. After I had bungeed, I pulled a red chord that put me into a sitting position. Then I was bouncing slowly up and down, seeing the whole city from the air. There was a point where I literally had no thoughts at all. My brain was just in silence. I've never had that much adrenaline. I got to the bottom and my legs were shaking because of all the adrenaline that I had running throughout my body. It was the coolest thing ever. Now I can cross it off of my bucket list as one thing I've always wanted to do, but I don't plan on doing it again- not because I didn't love it or enjoy myself, but I've already done it, and there are other things that I would like to do. We walked across the city to the Wynn hotel and watched an opera water lights show, which was pretty cool. We headed back to the boat to ship back over to Hong Kong, and we went out for dinner at a Chinese restaurant. Since Brad didn't sleep on the floor that night, we all had to squeeze. I uploaded my pictures (not all of them, but my favorite ones) and then went to bed. Needless to say it wasn't that great of a sleep because there were four of us and we were just telling stories and laughing the whole night.
Day 4: Beijing
We woke up and got a taxi to the Hong Kong airport where we got on the plane and headed to Beijing. We got to Beijing around two, so we went to the hotel and ate lunch. After this, we headed to Tiananmen Square. Unfortunately the Forbidden City was closed at 4, so we weren't able to go into it and see it. We went to an acrobatics show which was so cool. It was the same place I had been with people to people, and I forgot how cool it was to see people able to flip around and do crazy things. We finished the acrobatics show around 9 and then headed back to the hotel for dinner. We went to the top floor dining, and we had an Italian dinner that overlooked the forbidden city. After dinner, I went to the hotel where the Sigals were staying, and was able to get my package from mom. YES! I went back to the hotel and went to bed.

Day 5: Beijing
We woke up and ate breakfast, and then were picked up by a travel agency that was going to take us around for the day. Unfortunately, our van hydroplaned and we crashed into a guardrail. We were picked up by another van by the same agency, and they took us to a jade museum, where there was so much jade and the jewelry was so pretty. We were taken to the great wall, and I forgot a) how hard it was to climb up those stairs, and b)how beautiful the scenery was. We took the road less traveled, and only saw about 20 people on our entire two hours at the wall. It was so steep, it has been a few days since we were on it and my calves are still aching. We went a few towers, and then sat on the top of one of them and hung out for a while just staring at the scenery. It was so relaxing- if there was a bigger group, we wouldn't have been able to do it. we came down from the great wall and were taken to a silk factory, and then to a tea house. We then went to lunch. My favorite meal that lunch was pigeon- we were served pigeon and noodles. AMAAAZING! We went back to the hotel, and then went to the mall. At the mall, I have never seen such incredible food courts. It was the craziest thing. There were so many different types of cuisines, so we all decided to get hibachi. I ate eel and it was interesting. Luckily there was only a little chunk of it, so I didn't have to enjoy it. it was too fishy! After dinner we walked around outside and found ourselves in CHINATOWN. I found it so funny- even china has a Chinatown. I wish we had spent more time on this street, but it closed half an hour after being there. I was able to eat snake and scorpion, though. Snake tasted like chicken nuggets, and the scorpion just tasted like fried food. We went back to the hotel, and the boys went to work out. Katie and I showered and got packed for our early morning the next morning. I signed up for my classes (next semester is going to be hard!) and then we all went to bed.

Day 6: Xi'an
At 4AM, Katie and I went to the airport to catch a plane to Xi'an. This is where the terracotta warriors were. Turns out we got to the airport 3.5mhours early for our flight, so we sat and talked and got breakfast. We got on our plane, and slept the entire way to Xi'an. We were picked up by another tour company, and he explained Xi'an, the great wall, and other various places in China to us better than we had learned in our global studies classes. We were taken to a place where they show us how the soldiers are made, and then we were taken to lunch. The lunch was so good. All of the other countries we've been to have the best food. We then went to see the warriors. Again, I had forgotten how cool the warriors were. I could just imagine an emperor telling all of these real life soldiers to do his various requests- each soldier had a face like the man of the real army. They were all different. Every single one! We went back to the airport, and we slept the entire hour car ride back. We got on our plane, slept some more, and then arrived at the boat. At the boat, we both just passed out from being so exhausted.

Day 7: Shanghai
We woke up on the boat at 8:30AM and got breakfast. After breakfast, we walked around the city of Shanghai, and then went on a search to buy Katie some running sneakers. We ended up getting subway for lunch because we were craving American food. We walked down this street where there were all of these really cool stores, and tons of asian people. There were no SAS people anywhere. We then went to a different street where we thought was a market but it wasn't, so we asked the taxi driver to take us to the market. He took us to the mall. We asked someone in the mall about the market, so we got a taxi driver to this "pearl place". It was exactly what we were looking for. Everything was so cheap and it was filled with knockoffs. I asked a woman to show me a bag, and she said, "okay but I hurry. Police come in. no good". WE WERE AT A BLACK MARKET. It was so fun because at this point in our trip, Katie and I are so good at bargaining. We got a taxi back to the boat where I ran into the Sigals! I was able to talk to them for about ten minutes, when I decided to put my things on the boat so I could come back off and talk to them. I put my things on the boat, but they wouldn't let me back off of the boat, so I had to wave to them from the top deck. All of us gathered in me and Ashtons room, and we watched Mulan until we had to leave. China was so much fun!