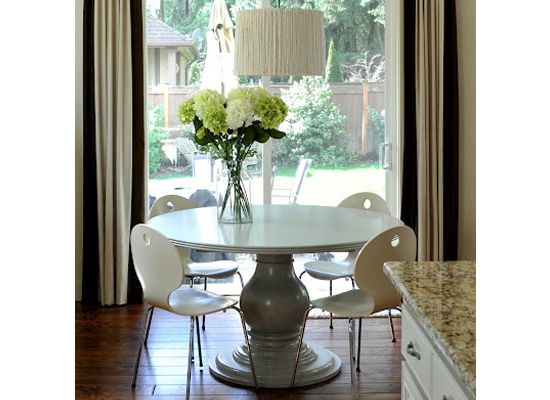 Curtains make a huge difference to outlook of the rooms in your house. As a matter of fact, you will give your room a completely new look when you change the design of your curtains. Here are some tips on how to choose curtains that will make your interior look elegant:

First off, in cases whereby the homeowner uses wooden blinds for their windows, curtains can still be a great addition. During summer, you can pull your curtains to the sides, open your windows and draw up your blinds to let some sunlight and fresh air inside your room. What's more, rooms without curtains tend to look bare and incomplete.

Floor Length Curtains

Curtains that go all the way down to the floor portray elegance. On the other hand, shorter curtains seem more relaxed and casual.

One of the most excellent ways of creating elegance in your home using curtains is by choosing draperies manufactured from deep fabrics like brocade or velvet. Ensure that you install your curtain rods on the wall, close to the ceiling. Only use a curtain that is long enough to go reach the floor from this position; using a shorter curtain will look totally awkward.

Fixing your curtains just below the ceiling and letting them reach the floor will make people believe that your room has giant windows. In addition, the use of thick and rich fabrics creates an aura of elegance. Enhance this look by purchasing a complete curtain; your curtains should not just smooth across your windows. Purchase curtains that are at least double the wideness of the windows, so that they are gathered and evenly bunched across your windows!

Tie-Backs with Lace

These types of curtains are available in a range of styles and designs. Your goal here is to obtain a more elegant curtain, so go for a deeper and richer fabric. However, simple cotton fabrics and lace may also look elegant. For instance, thinner and lighter fabrics will look absolutely stunning during summer and spring periods. Once winter comes, you can then change to lined velvet and thicker brocades.

With these forms of curtains, you will require not less than 2 curtain rods to bring out the elegance better. Purchase lace-window panels that are either twice or thrice your window's width. Just as the floor length curtains, choose one that goes all the way down to the floor. Fix your lace panels, and then stretch them from one side of the curtain rod to other, so that relatively uniform ruffles are formed from one end to another.

Draped Fabric

Lastly, the use of draped fabrics and decorative curtain rods is another simple way of creating curtains that look elegant. These types work best if your room has very large windows. Always use a lengthy fabric for your curtain (twice or thrice your window's size). The material may be unfinished or raw, provided that you like it. It should also be attractive and match with your home's décor.