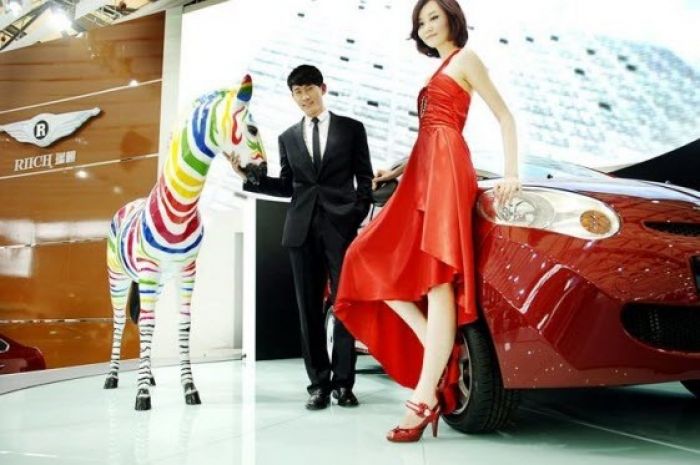 http://www.chinasmack.com
There are many different types of job out there and pretty much all of them are essential to the economy and to society. Even the much maligned jobs such as street sweeping are very important to us as without them things could begin to get very mucky indeed. The job that you do will have a considerable bearing on how you live as it will have a direct effect on your income and your lifestyle. The type of job that you do is also likely to have an impact on the type of car that you drive.
The Executive
Successful business executives are likely you have vehicle that oozes professionalism and success, and the luxury saloon does just the job. Well-furnished inside the luxury saloon is a comfortable vehicle which could even allow you to get some work done on the way to the office, provided you have a driver of course. The higher end range saloons make a firm statement of success that can help install confidence into potential clients and business partners. Pull into any large company and sitting in the MD's parking space will almost certainly be a luxury saloon.
The Tradesman
If you are a tradesman, it is reasonable to think that you may well have a van on your driveway. Vans are ideal for tradesmen because it allows them to carry their equipment and materials easily, making them more efficient in their jobs. Some vans are specialised to carry out specific jobs and without them, the tradesman could become quite stuck and vans are also the ideal mode of transport for couriers. Carrying countless people, tools and supplies up and down the country each and every day, the van could be considered to be the workhorses behind the economy.
The Shop Worker
Shop workers are unlikely to have a large income, and it is unlikely they will need to travel far to get to work, so a city car could be ideal for them. Affordable to buy and relatively cheap to maintain, city cars are a great solution for anybody that is on a limited budget and when you need to travel only short distances, they do just the job. Although small and inexpensive, city cars can also be quite fun and quirky making them popular among people in a higher income bracket also. Whether you are looking for a small run-around to get you from A to B, or something that is more of a fashion statement, a city car could be just what you need.
The Rock Star
As very wealthy people, rock stars can afford to surround themselves in opulence all the time and like to do so even when on the road. Rock stars are also renowned for their non-stop party lifestyles and for some, even eating and sleeping are things that get in the way of having a great time. To enable the party to continue even while travelling to the next gigs, rock stars often use stretched limousines in which they can continue with their party in privacy. With built in bars and entertainment systems a stretched limousine could almost be considered a small club and with blacked out windows, nobody can see what is happening inside. Rock stars are actually likely to have a collection of different cars, although one thing common to nearly all collections is the inclusion of a stretched limousine.
No matter what kind of job you do and regardless of the lifestyle you lead, there should always be a car that I just right for you. It will often seem as though a particular car has been tailor made for your specific needs.
If you need a luxury vehicle for short term use, speak with a limo hire Coventry company as they should have just what you need.