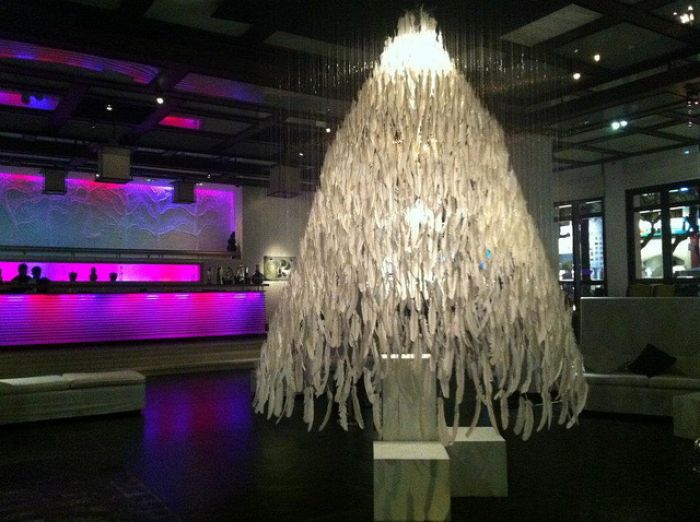 Hotel de la Paix
Hôtel de la Paix, a five-star boutique hotel dedicated to community sustainability in Siem Reap, Cambodia, has unveiled it's annual sustainable Christmas tree. The stunning creation is composed of 3,200 mind-blowing white feathers, hung delicately on individual wires from the ceiling in the hotel' stylish lobby.
With the help of the hotel staff, a Christmas tree composed of delicate white feathers took shape over 10 days, with the aid of three engineers. The tree was unveiled earlier this month and will be on display for a limited time during this holiday season.
Since 2008, the Hôtel de la Paix has been creating marvelous sustainable Christmas trees in the lobby to welcome international travelers during the holiday season. As part of the hotel's commitment to the environment and sustainable tourism, each tree is crafted with recycled materials. The trees show Cambodia's focus on the future, while paying tribute to the past.
In the holiday spirit, the special Christmas trees bring splendor to an impoverished community. To embrace the community, Hôtel de la Paix not only builds the trees, but also provides aid to those in need. Upon the unveiling of this year's tree, the hotel made a special donation their community partner, The Green Gecko Project for street children. Guests are also encouraged to give, in keeping with the spirit of the holidays.
Hôtel de la Paix opened in 1957, and after undergoing a total renovation in 2005 has renewed it's efforts to not only cater to the discerning traveler seeking style and relaxation, but also encourage responsible tourism and enable guests to gain a true understanding of Cambodia.