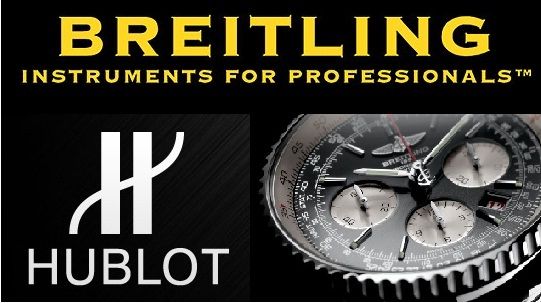 Time2
Breitling may not be one of the first brands that springs to mind when you think of the sort of watches worn by stylish women up and down the UK, but such is the quality of the timepieces from this luxury Swiss watch manufacturer, it is safe to say that it is a brand that is simply too good to ignore. In a similar vein, ladies Hublot watches are equally as impressive and amongst the most sought after on the luxury watches market – but which is the right choice for you…
Obviously there are loads of different brands to choose from, such as Bell & Ross, Bremont, Baume et Mercier and Raymond Weil - but generally, I find that it comes down to Breitling watches or Hublot Watches?

Well, here are the facts:

Ladies Breitling Watches – Whilst Breitling are famed for their military precision, their watches are amongst the most popular out there for women and this is largely due to their dedication to providing striking timepieces that really do stand out from the crowd. Hailing from Switzerland, the quality of these watches really is second to none and such is the diversity of the designs on offer, ladies who opt for this brand will be able to find something that matches their style superbly. In terms of cost, ladies Breitling watches typically range in value from around £1000 to in excess of £5000. The most popular collections are the Breitling Navitimer collection, the Breitling SuperOcean collection and the Breitling Colt collection.

Women's Hublot Watches – Perhaps the ultimate luxury in ladies watches circles, Hublot really do offer some visually impressive timepieces that are perfect for ladies who like to dazzle with their choice of accessories – and don't expect to see much change out of £10,000-£15,000 for a top of the range ladies Hublot watch. The brand is famous for their painstaking attention to detail and perfection and these ideals positively shine through in all of the watches that they create for their eager fan base and watch aficionados alike.

Deciding whether Breitling or Hublot watches are more suited to your style will be dependent on various different factors but the best way to gauge which brand is more suitable for you is to take a look at the offerings that are to be found online and on the high street. They are both amongst the most famous, stylish and desirable luxury ladies watches on the market and it is fair to say that if you were to receive either from a loved-one, you will be delighted with it.
Time2
Hublot Watches
Time2
Breitling Navitimer