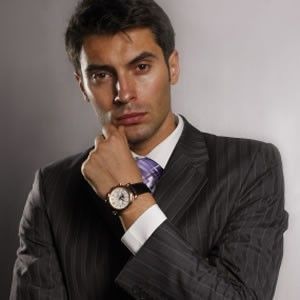 Jewellery for men occupies dodgy ground, style-wise, but watches are a different matter. It's quite reasonable to consider owning, apart from an everyday watch, something for the weekend and even a luxury timepiece for very special occasions or just as an investment.

When choosing your watch wardrobe it's important to set a budget to stop things getting out of control. After you have your understated and simple everyday watch the others are luxuries. Shop around and try on a timepiece before you even consider buying it. See how it feels on your wrist † is it comfortable and well-balanced? If the size isn't perfect can it be suitably adjusted? Ask questions too - a good salesman should know his product so if you come across one who doesn't, you can either assume the product itself doesn't have a lot to offer or find someone who knows his stuff. Online research can be very useful here.

You will of course have your own tastes and preferences but as a guide here's how to choose something special when you buy mens watches:

The watch for the weekend
If you play sports, indulge in rough and tumble with your kids or dog, do a bit of DIY or indulge in adventure activities you will need something robust that can stand up to a bit of rough treatment. Aim for a timepiece with a quartz movement to keep costs down † this is not the one you should be spending big money on when you buy mens watches. Make sure also that it is shock and water resistant. Depth resistance should be detailed on the back of the watch, usually given as a measure of maximum depth in metres. You should aim for ruggedness in both material and appearance. Forget gold and look at plastic, aluminium or steel. A utilitarian military or sporty looking watch should fit the bill nicely.

The luxury option
As this will be the most expensive watch you own, you are looking for something classic and timeless. It should be suitable to wear with any outfit, be it a T-shirt or a tuxedo. Look for something with a distinguishing feature, maybe sloping numerals or an individual colourway † you want to make sure this watch stands apart from the others without being garish or vulgar. Try and avoid passing trends like over-elaborate bezels or over-sized dials as you want this watch to remain in style for a lifetime. Sophisticated materials such as rose gold, titanium or platinum are more unusual but still orthodox enough. This timepiece should be an example of quality craftsmanship so with your higher budget you can aim for mechanical movements and some extra complications such as chronographs or moon phases. You're paying for something intricate and complex here but not calculators, beeping alarms or Mickey Mouse decorations! You may be spending a lot of money but remember that watches can be an investment † their value can go up as well as down and if times are tight you may appreciate owning a useful little nest egg.

Taking pleasure in wearing a decent watch doesn't make you a dandy or vain, rather it marks you out as a man of style and substance who is interested in the finer things.

AUTHOR BIO
Gareth Hayter writes regularly on watches and other male fashion accessories for a range of websites and blogs. He believes you should put in as much effort and research to buy mens watches as you would when buying a car and that a good timepiece should last a lifetime.