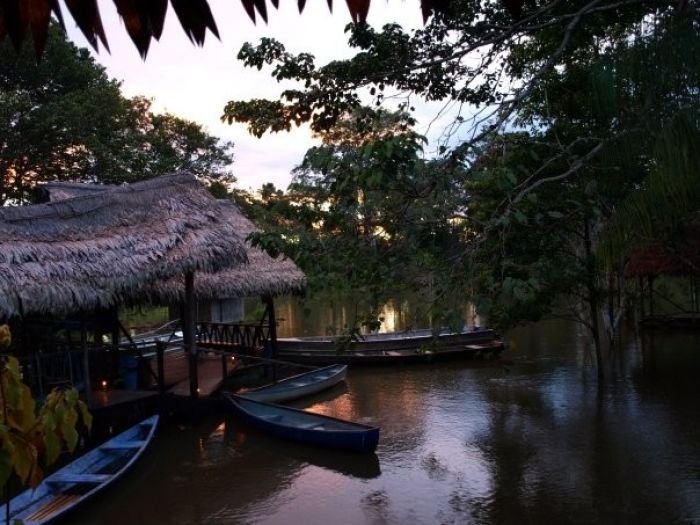 Matthew Barker
Comfort and Adventure by Amazon Riverboat
The Amazon Jungle in South America spreads across several countries and offer various opportunities to experience this unique ecosystem up close. With many cities situated throughout the jungle, there are several different ports of entry, which include air, land and river.  To truly experience the Amazon authentically, it´s best to go to the source of life for all the rainforest, the Amazon River.
Located in the Loreto region of Peru, you will find the largest city in the Peruvian rainforest, Iquitos.  This jungle town is located on the banks of the Amazon River and can only be reached by air or boat. 
For an adventurous traveller looking to experience the Amazon while not sacrificing modern comforts, an Amazon river cruise is a great option.
Amazon cruise vessels and riverboats embark from the port of Iquitos and either return to the same place, or end in the town of Nauta just 100 kilometers away.  Cruises generally last one week and include a number of different landings and excursions each day. 
Common included activities to expect are canopy tours, jungle hikes and community visits.  As you depart from Iquitos you will pass by a number of communities along the banks of the river. Many of the riverboats will stop and visit in order to give travellers an authentic taste of local life on the river.  If visiting an Amazon community, plan in advance. 
Try to bring some school supplies for the children and their teachers may just invite you into their classroom to listen in on the day's lesson and help students with their homework.  Many communities also offer different handicrafts for sale made by the local people.  
This is a great chance to trade with people in the community and find that perfect souvenir to bring home.  Heading further upriver from Iquitos you will reach a fork where the Ucayali and Mara?on rivers meet, bordering the Pacaya Samira National Reserve.
The Pacaya Samira National Reserve is one of the largest natural protected areas in Peru, and the most popular destination for Riverboat and Adventure Cruising in the Amazon.
Riverboats offer a great chance to get closer to the Amazon´s unique flora and fauna. Riverboats are equipped with additional, much smaller speedboats.
This is the perfect way to explore the river and it´s small tributaries, offering great wildlife and bird watching opportunities. Common mammal sightings in this area include squirrel monkeys, sloth, gray and pink river dolphins with chances to see other endangered animals such as spider monkeys and giant river otters. For bird enthusiasts, it´s a great place to spot several different species of macaws, parrots and hawks.
At the end of a long day exploring the Amazon, there is nothing better then returning to a comfortable air-conditioned cabin for a hot shower. 
Afterwards, wind down with a cocktail at the bar, watching a beautiful Amazonian sunset before getting ready to enjoy a nice three-course meal onboard.  Finally at the end of a hard day, settle in for the night letting the sounds of the jungle serenade you to sleep.
Travelling by Amazon Riverboat is a great way to experience the wildlife of the Amazon, it´s people and various regions in the Pacaya Samira Reserve. 
Staying in comfortable air-conditioned riverboats, eating freshly prepared daily meals and being able to put your feet up at the end of the day makes Riverboat travel in the Amazon a very enticing way to travel.  You may just forget you are in the middle of the largest tropical rainforest on the planet. 
- ·       Travelling by riverboat from Iquitos can be done year round, however it´s best to go when water levels are higher, from April to June.  This time of year avoids the rainy season from November to March, but also avoids the driest time of year in July and August. 
- ·       Don´t travel without bug spray, a rain jacket, a flashlight, and most importantly a pair of binoculars.  If you´re interested in birds, you will miss a lot without a good pair of binoculars 
- ·       You will indeed want to buy something from the locals when visiting their communities.  Make sure you have small bills of dollars and soles, preferably soles.  It is very difficult to change bills of 50 or 100, try to get smaller bills of 10 and 20 and even better, coins of 5 soles if possible.
If you don't have the time for an Amazon river cruise, an alternative option is to stay in a jungle lodge, such as Tambo Blanquillo, specialists in guided Manu tours.