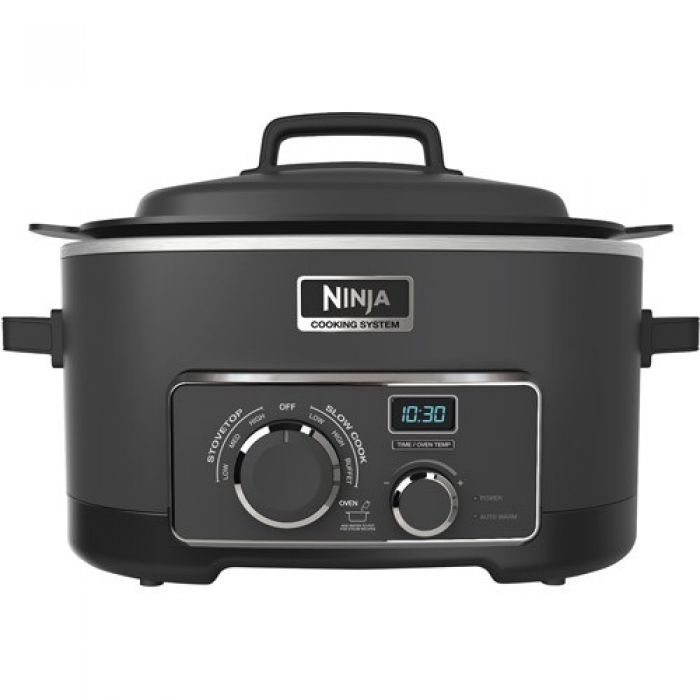 Ninja Cooking System
Life sometimes gets in the way of healthy cooking which is why many people opt for something quick and easy. But now there is an EASY way to cook faster and healthier meals. Meet theNinja Cooking System.
At first glance, it looks like a slow cooker, but it can do so much more by simply layering the food so it cooks evenly, all in a reduced cooking time. Believe it or not, you can make a full dinner in just 30 minutes and the best part is it is so easy to create a great dinner.
Start by layering the main course, vegetables and pasta or rice inside the pot. Within just a half hour, you will be eating a delicious dish. The Ninja Cooking System said it could reduce cooking times by as much as 30 to 50 percent so we had to see for ourselves.
We love the steam oven feature, which allows the foods to keep their natural juices, while fat drips away for healthier foods. The technology behind the system is its triple fusion heat that combines heat from the bottom of the pot, direct heat from the sides along with steam for faster, more even cooking.
We love the recipe for cooking spaghetti and meatballs. Simply add uncooked spaghetti, sauce, meatballs and water and set the system. The result? A delicious pasta dish ready in just minutes. Trust us, we couldn't believe it either!
Now you can even indulge in more of your sweet cravings like cupcakes that can be steam baked using half the butter or oil. If you want to make chili, start by browning meats and caramelizing onions using the stovetop setting before turning over to the slow-cook setting. This eliminates the need to clean additional pots and allows all of the flavors to be retained while cooking. There is even a programmable option, which allows you to set the cook time and the Ninja Cooking System automatically switches to a warming setting once cooking is complete.
With the holidays quickly approaching, this might be the best gift for the foodie on your list who has it all.
For more information, visit www.ninjacookingsystem.com.