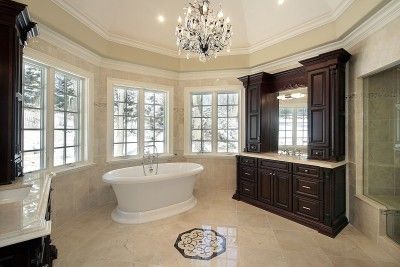 Thereís nothing quite like the pampered feeling you get when staying in a pristine luxury sleeping quarters complete with sparkling bathroom. When you relax and unwind in said bathroom, the suite itself will of course set the tone. But, whether your designís built around a roll top bath or corner Jacuzzi, or it features its own wetroom area, the luxury, as ever, is all in the detail.
Not long ago justluxe.com featured this gold sink inlaid with diamonds, which would certainly add a touch of glamour to any bathroom, but there are some subtler ways to introduce a luxury feel.
Comfort is key in top level classhotels and if thatís a sentiment you want to channel at home you need to introduce special touches such as underfloor heating or simpler treats like fluffy dressing gowns and slippers for bathroom users.
Creating layers of light allows you to generate ambience in a practical space. Bathroom lighting in hotels typically incorporate strip lights, lit bathroom cabinets and dimmer switches to give guests total control over setting the mood in the bathroom. In the home this can be recreated using lighting setups that incorporate bright settings and subtler circuits made up of inlaid LEDs in the ceiling or floor and perhaps even lit shower heads.
Candles can be used as part of a lighting scheme and have the extra benefit of adding fragrance to the room when lit. Another less typical way to introduce scent into the room is with a case of freshly cut seasonal flowers. Bathroom accessories are often overlooked and while you might not want to bring in a vase, taking a coordinated approach and picking out a few matching accessories will add to a roomís polished appearance.
Of course, you canít overlook the importance of products in enhancing the hotel bathroom experience; those little bottles of spa toiletries really do make you feel like a princess. There are plenty of great box sets around at this time of year that will help give your bathroom a more uniform feel. For inspiration and new favourites, take a look at the justluxe health and beauty section.
Luxury Hotel Bathroom