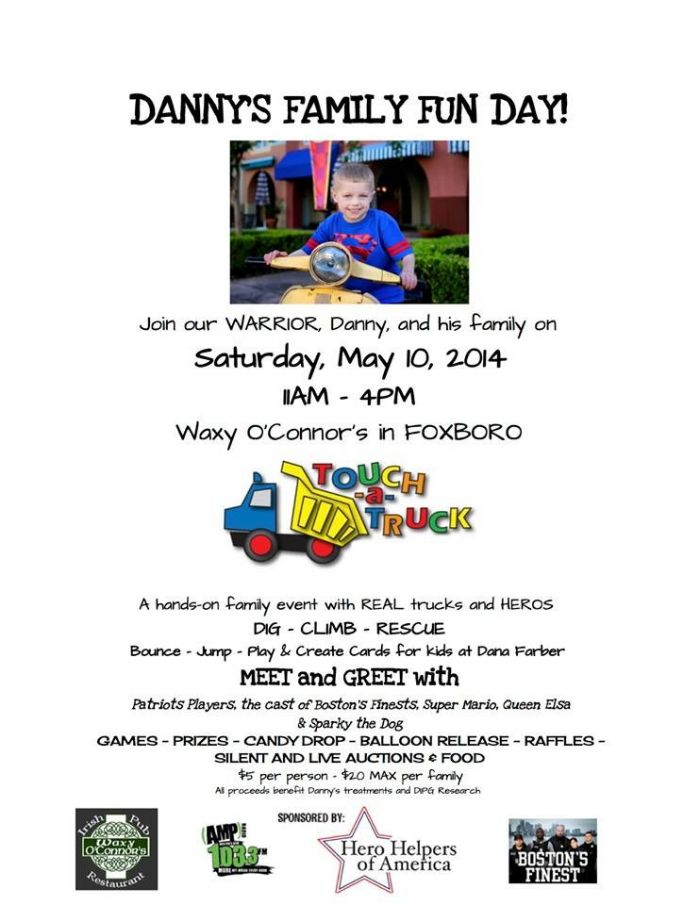 Hero Helpers
Imagine being told your five-year-old son has an inoperable brain tumor and there is nothing the doctors can do to save him. That's just what happened to Danny Nickerson's parents last fall when he was diagnosed withDiffuse Intrinsic Pontine Glioma (DIPG). DIPG is a brain tumor that is located in the Pons of the brain stem (typically diagnosed between age 5 and 10). It is rare, inoperable, and there is no cure to date.
"Danny started kindergarten in September and in October, we noticed something was going on at my daughter's birthday party," said his aunt, Hayley Nickerson Stewart. "One of his eyes looked crossed and he was running at an angle. We went to Children's Hospital for an MRI and when the doctors gave us the news, we were in complete shock. If you looked at him now, you would have no idea he is sick."
Right now, Danny is being treated with radiation and chemotherapy as part of a clinical trial to shrink the tumor. To help defray his medical costs, the first annual Danny's Family Fun Day in Foxboro is being held next weekend on Saturday May 10, 2014 from 11 a.m. to 4 p.m. sponsored by Hero Helpers of America, Inc. and hosted by Waxy O'Connor's on Main Street in Foxboro, Mass.
For the event, kids will be able to "Touch A Truck," or play in a bouncy houses or at craft tables. There will also be balloon artists, face paint artists, Meet & Greet with cartoon characters, along with Danny's Heroes (police (the entire case of Boston's Finest will be in attendance), fire, and military personnel) and special VIP guests. Games and prizes along with a candy drop from a bulldozer, magic show, pony rides, and food provided by Waxy O'Connor's will also be offered.
100% of all money raised will be going towards Danny's care and expenses.
For more information on this event, e-mail lauren@herohelpersofamerica.org.