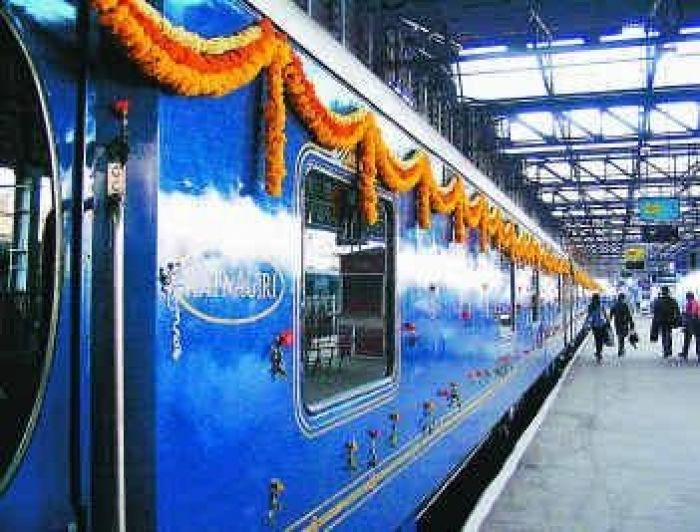 Indian Holiday Private Limited, a premier tour operator in the luxury train segment, has announced a 30% discount for the Deccan Odyssey departure scheduled for 20th March, 2013. The above mentioned discount is valid only for the bookings made till 20th January, 2013. The tariffs of this luxury train are much lower than its Indian counterparts. USD 315 is the minimum price charged for a week long journey on board Deccan Odyssey on a triple sharing basis. As per the officials of Indian Holiday Private Limited, this special discount has been announced to make Deccan Odyssey journey accessible to a wide spectrum of overseas travelers.
The second luxury train to be launched after Palace on Wheels, Deccan Odyssey is quite hit with the luxury travel enthusiasts and has received good reviews on various travel forums. The train has been nominated at the World Travel Awards in the category of 'Best Asian Luxury Train'. Beginning from the Chattrapati Shivaji Terminus in Mumbai, the 8 days and 7 night's journey offered by the Deccan Odyssey train covers various destinations in Maharashtra along with a halt in Goa. The destinations covered are Sindhudurg, Aurangabad, Vasco, Goa, Kolhapur and Nashik. The best part of this train itinerary that you travel at night and explore new destinations every day.
About the Company:
Indian Luxury Trains (ILT) is India's first and only luxury train travel portal. A trusted resource for luxury train travel and add on tours for exclusive Indian holidays based in New Delhi, ILT offer bookings for Royal Rajasthan on Wheels, Palace on Wheels, the Golden Chariot, Deccan Odyssey, the Indian Maharaja, Maharaja's Express along with news, reviews, brochure and newsletters.
When it comes to train travel in India, we at the Indian Luxury Train, use the synergy of community, process and technology to turn the informational anarchy available at plethora of websites over internet into systematized access of information to ease the travel planning and organizing process, delivering incomparable value to our clients.
Indian Luxury Trains (ILT) is a division of Indian Holiday Private Limited®, a National Tourism Award winning company recognized by Ministry of Tourism, Government of India. You can rely on us as a trusted resource with 22 years of domain experience. We are also associated with travel bodies IATO, PATA, ASTA and IMTA.
Contact Us:
Indian Holiday Pvt. Ltd.
Rakesh Agrawal
70, L.G.F, World Trade Centre,
Barakhamba Lane New Delhi-110001
Tel: +91-11-2568 6868
Fax: +91-11-2568 7110
Mobile: +91-9717179408
Booking inquiry: query@indianluxurytrains.com
General inquiry: info@indianluxurytrains.com
Website: www.indianluxurytrains dot com
Deluxe Cabin Double Bed
Deluxe Twin Bed Cabin
Double Bed Presidential Suite Cabin
Mumbai Hi, Bar, Deccan Odyssey
Peswa II Restaurant, Deccan Odyssey
Fitness Center, Deccan Odyssey
Deccan Odyssey Dining Car