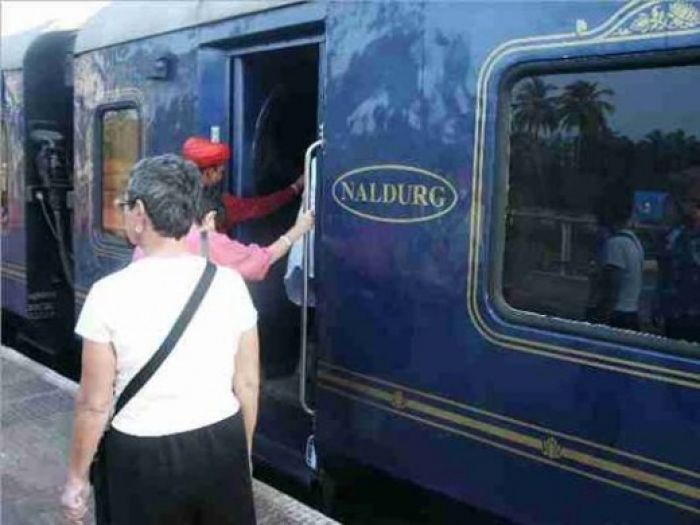 The Deccan Odyssey's sheer luxury is a sight to behold. Everything in the train reflects the ways of Indian Royalty.
A mesmerizing voyage through Maratha heartland in contemporary marvel on wheel...
Deccan-Odyssey-India.com offers detail of this luxury train facilities which includes details of guest cabins, dining, bar, lounges, train staff and tour guides.
Details of the destinations covered by Deccan Odyssey including the details of attractions covered during Deccan Odyssey luxury train travel
8 Days Trip
1.Mumbai: The Commercial Capital of India
2.Sindhudurg: A Ménage of Nature
3.Goa: The State of Sun Bathed Beaches
4.Kolhapur: Land of Magnificent Temples
5.Daulatabad: 14th Century Fort City in
6.Ajanta: Caves Depicting Ancient India
7.Nasik: A Sacred City on the River Bank of Godavari
Deccan Odyssey has announced its two confirmed departures for the 2012 festive season of Christmas. This luxury train tour will depart on 19th and 26th of December 2012 from Mumbai and cover prominent destinations such as Ajanta & Ellora Caves, Sindhudurg, Tarkali and Goa. The all inclusive tour tariff starts from US $450 per person per night. These 2 exclusive journeys will span over 7 nights and 8 days.
Contact Us :
70, L.G.F, World Trade Centre
Barakhamba Lane, New Delhi-110001
Tel: 91-11-4777 3434, Fax: 91-11-4777 3400
query@deccan-odyssey-india.com