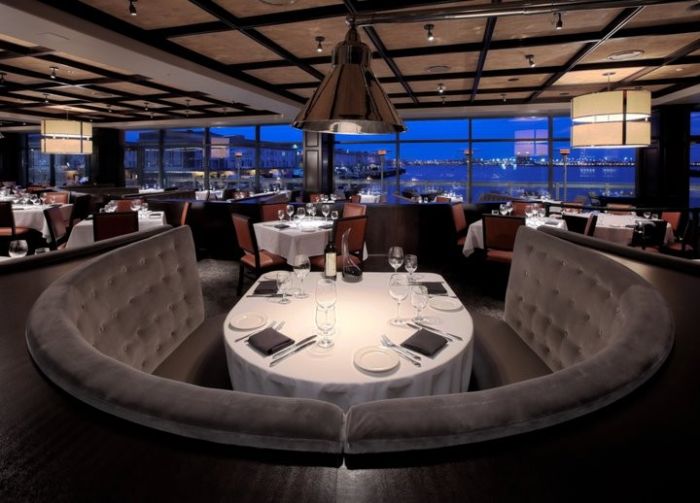 Del Frisco
Carnivores unite at Del Frisco's Double Eagle Steak House.

The steak lover's paradise located at Liberty Wharf is one of the most beautiful steakhouses in Boston. From the moment you step inside the lobby and walk up the gorgeous spiral staircase up to the main dining room with floor-to-ceiling glass views of Boston Harbor, you will know you have arrived.
Everything about this restaurant is over the top - breathtaking views, a sparkling interior, sumptuous booths, a circular bar and waterfront patio. They have recently introduced a weekly happy hour series that starts on March 14 and runs through April 25. Being held every Friday from 4:30 to 6:30 p.m., complimentary liquor tastings and cocktailsare available from scheduled sponsors like Patron and Kettle One as well asa new happy hour bar menufeaturing cheap eats from tuna tartare to cheesesteak eggrolls.
We visited the restaurant recently and were quickly greeted by Max, our friendly and attentive server. To get started, we sampled a half dozen jumbo (and we do mean enormous) shrimp cocktail served with spicy cocktail sauce. The crab cake is large enough for two people to share, made almost entirely of pure crabmeat, topped with a spicy Cajun lobster sauce.
Steaks are the name of the game here and take on every shape and size seasoned to perfection. Pair up a glass of Hess Cabernet or Stag's Leap Cabernet with the juicy wet aged bone-in ribeye or enormous and uber tender double eagle special. Other steaks include a bone-in filet, Tomahawk veal chop, 16-ounce prime strip and gigantic 24-ounce porterhouse. Sides here are a la carte and large enough to be shared. We split a baked potato, which came with all of the complements, including bacon, sour cream, chives and cheddar cheese. Desserts here should not be missed, especially the gigantic layered lemon cake. Don't worry if you can't finish it – they will send you home with the rest.
Del Frisco's Double Eagle Steak House is located at 250 Northern Avenue in Boston. For reservations or more information, call (617) 951-1368 or visit them online at www.delfriscos.com.