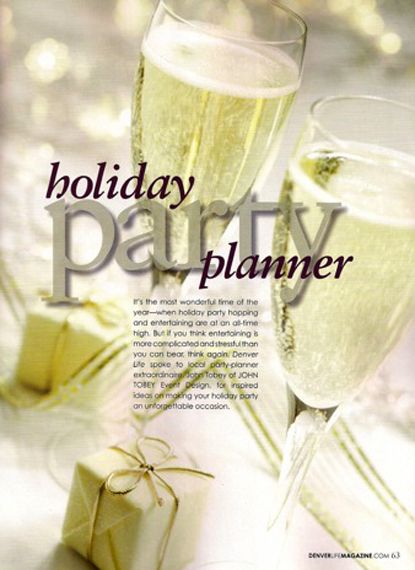 Courtesy of Denver Life
John Tobey knows his stuff. Being in the event planning industry for twenty years planning everything from weddings to galas, mitzvahs to christenings, he's got it all down. Featured on Oprah's Wedding Network, a contributor to InStyle, and included inArt of the Celebration, Denver coming out later this year, the man to know for all things event is John.
JOHN TOBEY Event Design, a Denver-based firm, just celebrated 10 years of being in business. Previously EVENTeur, Entrepreneurs in the World of Event Planning, John has planned socialite's weddings, hotel openings and large-scale galas in Denver and beyond.
"I did a wedding in Lake Como one year which was spectacular," John recalled, "Each event is its own special entity. Each one is uniquely different and exceptional."
And his clients couldn't agree more. Melissa Mandarich had her wedding at the opening of Ritz Carlton Denver. Hiring John as the event planner, the happy couple were the first guests to stay at the property and cut the ribbon of the hotel with the GM, who also gave them a key to the Ritz- a wedding welcome to the clients of John Tobey.
"John made our wedding," Melissa stated, "From engagement to wedding date was just shy of two and a half months. To execute such an extravagant event for approximately 300 guests to coincide with the opening of Ritz Carlton Denver not only took finesse and organization, but also experience."
With the wedding coinciding with the Rose Bowl, John's relationships with florists enabled him to pull major strings to fill the Mandarich's order for thousands of roses during a time where not many were to be had. The Winter Wonderland theme came seamlessly together under the direction of John.
Not being a one-trick pony, Mr. Tobey brings his expertise to the philanthropic world as well. Jeremy Bloom's Wish of a Lifetime organization, which enables wishes to be granted to octogenarians and older, used JOHN TOBEY Event Design for their last gala and fundraising effort. Midsummer Night's Wish was an event of the social season, bringing athletes and community organizers alike together in a sell-out crowd at the Suell Ballroom in Denver.
"Our experience with John was excellent," George Bogdewiecz, CEO of the Wish of a Lifetime said, "He did a great job of ensuring that the vendors and suppliers were working together flawlessly. When necessary, he made last minute adjustments that made the evening much more enjoyable for our guests." Surpassing the financial goal of the evening by three times the amount, the event planning that went into the gala paid off with the organization able to provide even more to their seniors looking to have wishes granted.
Whether planning a grand wedding, holiday gathering, intimate engagement, a large-scale gala, or corporate party, John Tobey of JOHN TOBEY Event Design is just the man. "I would recommend John in a heartbeat to anyone who is looking to plan an extraordinary event and demands professionalism and expertise from their partners," affirms Melissa. From events in Italy, Puerto Vallarta, LA, Dallas, New York City, Aspen and the Rocky Mountain Region, this powerhouse of event excellence is here to stay.
"I've been extremely fortunate in my industry to provide my clients with the best of the best, from large functions to intimate occasions. I look forward to working with new clients and established relationships alike as my company goes into its second decade," John smiled, "Let's have a party."
To book your next event with John Tobey, visit www.jtobey.com.
Chad Chisholm
John Tobey, Principal at JTED
Wonderworks Studios
Mandarich wedding at Ritz Carlton
Wonderworks Studios
Mandarich wedding at Ritz Carlton
Chad Chisholm
Midsummer Night
Jenna Walker Photography
Mountain wedding in Vail, CO
Angela Beldy
Cartier event at Four Seasons Hotel Denver
Wonderworks Studios
Wedding event
Wonderworks Studios
Private birthday party