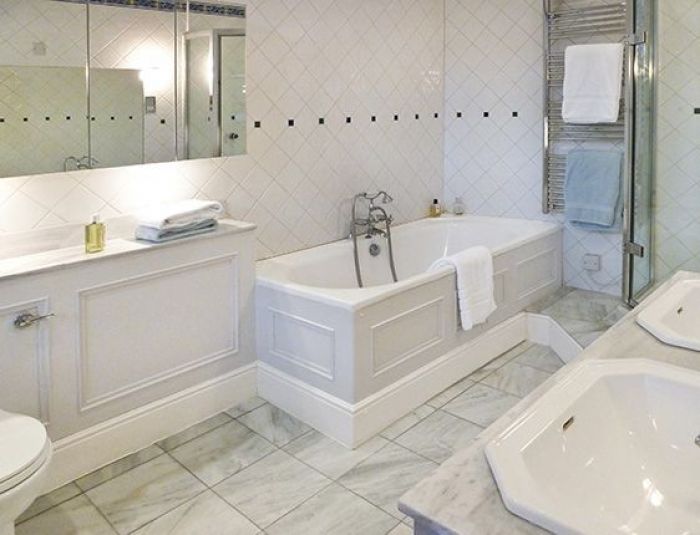 The en suite bathroom can be one of the most treasured rooms in your house. It performs the dual functions of privacy and convenience – plus if you design it right you can also get a reasonable amount of luxury for not very much in the way of outlay.
Obviously all bathroom supplies have a cost attached – and because they are "wet goods" they will be comparatively the most expensive items in your home. But that doesn't mean you have to pay over the odds for them. A simple bit of knowledge can help you cut through sales talk and understand what you need, as opposed to what you are being told that you require.
For instance – small decorative tiles can look great in a bathroom, but they're expensive. Also, the more grout you have in your en suite the more mould you will develop after a year or two. Make no mistake – even the best fitted, most well ventilated bathroom supplies will grow a little mould spotting over time, no matter how clean you keep them.
Fitting large tiles means much less surface area of grout – and that means much less mould spotting. Also, if you use an off white grout or a dark coloured grout then you won't see the discolouration even when it happens.
Sink size is an important consideration in most en suites. By its nature an en suite bathroom can be quite cramped, if you don't design the space sensibly. The sink is one of the pieces in your en suite most likely to get in the way – for instance, in a long thin en suite bathroom, the sink normally gets fixed to the long wall in the middle, leaving space for a shower at one end and a toilet at the other. If the bathroom is very thin, the sink can cut out most of the usable space in the area.
Half size and super-small sinks are the ideal bathroom supplies for the middle of your en suite bathroom – leaving much more room for moving around and cutting out the danger of bashing your hips when you get in and out of the shower. The sink in the en suite bathroom is really only used for washing hands and cleaning teeth, so it doesn't need to be full sized, either – use the space more effective by leaving it open.
Bathroom supplies range from shower trays and enclosures to shower heads and mixers; from sinks and taps to baths and bidets. The key to keeping costs down can be to buy a set, which normally offers you a discounted price for a collection of these items – or to shop around for individual items at good prices.
If you are designing a small en suite then shopping around for individual items is usually the way to go. It represents the right combination of cost against size – after all, it's no use getting a great deal on a three piece bathroom suite if it doesn't actually fit into the area you need it to.
Catherine Powell is an interior designer. She sources independently sold bathroom supplies for her clients from a range of locations.