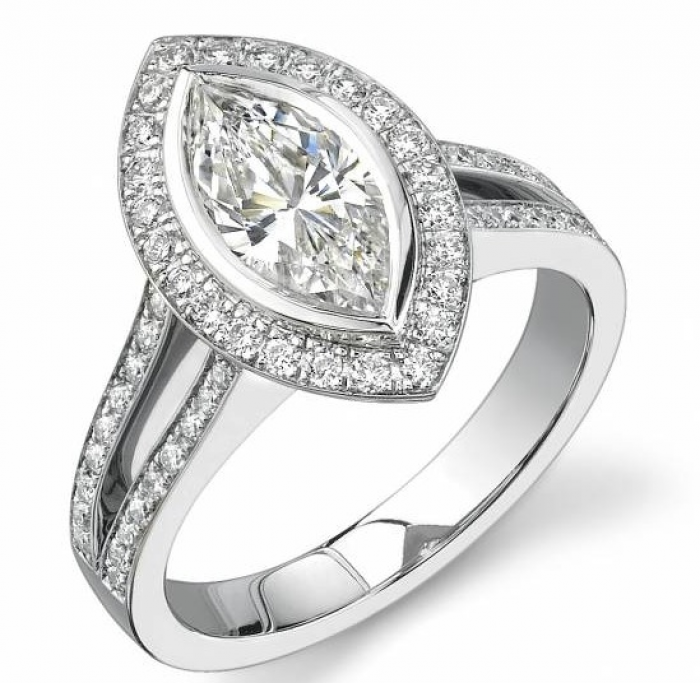 It is an unwritten rule everyone sticks to that the diamonds are automatically associated with engagement rings. A diamond will easily make a woman feel special. It is one of the few things that can trigger a limitless feeling of happiness and appreciation. Although most men are aware of these things, making an informed decision is more complicated. There are plenty of characteristics to take in consideration, including the mounting type, the cut or even the weight. Picking the right engagement ring is definitely a demanding activity and you will have to be properly informed to do it by the rules. Of course, your available budget plays a major role in the process too, but a little education can give you the possibility to find a middle solution.
A diamond ring is an indirect proposal
A diamond ring is the clear proof of eternal love and love insurance. What else can be more direct and obvious than a solitary ring fitted with a diamond? You do not even have to ask the big question, as most ladies will automatically understand your plans for the future. This aspect does not mean that you have to make your decision in a hurry, without actually studying the market first. Each store representative will counsel you for free and will give you advice in your venture to find the perfect ring. Diamonds never lose their reputation, but they are extremely diversified and every price is directly proportional with numerous factors.
Mark the major events with diamonds
Whether you consider your baby's birth, your tenth wedding anniversary or a proposal, any of these events can be a good enough reason to surprise your loved one with a diamond. Never forget about her birthday and remember that a diamond ring will always be the favorite sentimental gift for most women. Stand up in the crowd and impress her with a three diamond ring that underlines the past, present and future. You may just as well opt for a classic model with only one stone or go crazy and pick multiple diamonds to shine forever.
The day she gives birth is probably the most important day in a loving couple's life, so it should never be unmarked with a precious stone either.
Surprise her
A silver and diamond combination is the perfect way to express your feelings without any words. You do not necessarily have to wait until her birthday or other major event. Show her how much she means to you with a significant gift given without any special reasons. The idea to come up with such a present out of nowhere will ensure the element of surprise. Your partner will always remember how much she means to you with that ring on her finger.
Get back in her life
The problems are absolutely normal in a couple. If you can admit that it was your fault, your problem is half solved. There are particular situations a few ladies can get over, but a diamond ring will definitely bring you back in her life. It is the right present to show her how much you care for her. The size or the number of stones is the only factors that might make the difference. The good news is that you can always find something appropriate without spending a fortune.
In conclusion, you do not have to panic and block yourself whenever you hear about diamonds. They might be expensive compared to other pieces of jewelry, but a man will never understand the incredible effect over his partner. The reasons vary widely and most of them are nothing but myths. To make a long story short, you do not necessarily need to invest a lot or get anxious towards this unknown domain. Relax and remember that buying a diamond ring is simpler, more interesting and more appealing than a football game. You just have to know the rules.
Devin is a reputed distributor dealing with an†online jewelry store, but he is also responsible for penning down a lot of ideas regarding this industry, including shopping tips or details for a smart investment. His write-up on diamond rings tells about some unwritten rules to surprise your loved one with the most appropriate piece of jewelry.
†