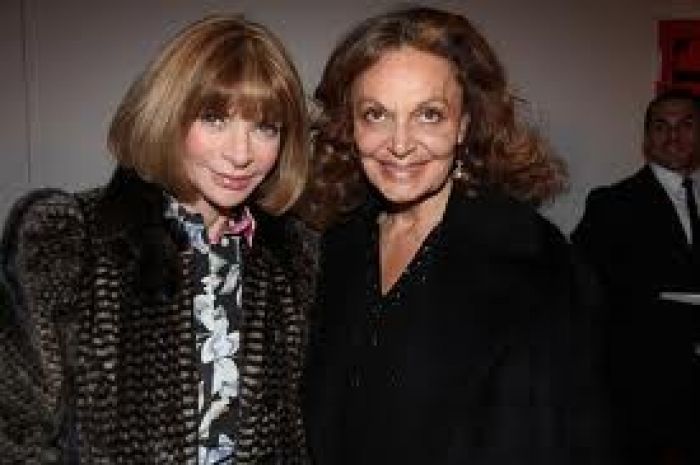 Zimbio
Forbes released its always anticipated 100 Most Powerful Women of the Year list and several names in the fashion industry earned a spot in the rankings. However, it is the sequence of a couple names in particular that have people going, "Hmmm."
The fact is that in our minds Anna Wintour, THE Anna Wintour, powerful, intimidating iconic fashion editor, should be reigning at the top of the fashion world's lineup. After all, we fearfully admire such a strong influential woman who has pulled off so many amazing things in her career including huge fundraising initiatives and a worldwide night of shopping complete with complimentary booze; she's the best, right?
But according to Forbes designer Diane Von Furstenberg ranks higher than Wintour by a full 18 spots, coming in at 34 (right after Beyonce) with Wintour trailing in the last half of the list, ranking at 51. We love DVF but this still boggles our minds. We get it; DVF is kind of a big deal being president of the CFDA and hitched to Barry Diller, media mogul and billionaire.
Here is what Forbes had to say about DVF's accomplishments in her fourth term at CFDA:"wielding the power of the president of the trade association of the country's top 350 designers," including collaborations we reported with Roxy and Evian, and a not-too-shabby revenue of over $200 million.
But on Wintour's profile, Forbes refers to her as "the most powerful woman in fashion." Wait a minute there Forbes, don't you mean second most powerful? Regardless of the rankings, editor's oversight, or factors like revenue accounting to the decision, we all know where Anna ranks in the industry.
Other fashion names gracing the list are: Miuccia Prada at 67 and Gisele Bundchen at 83.