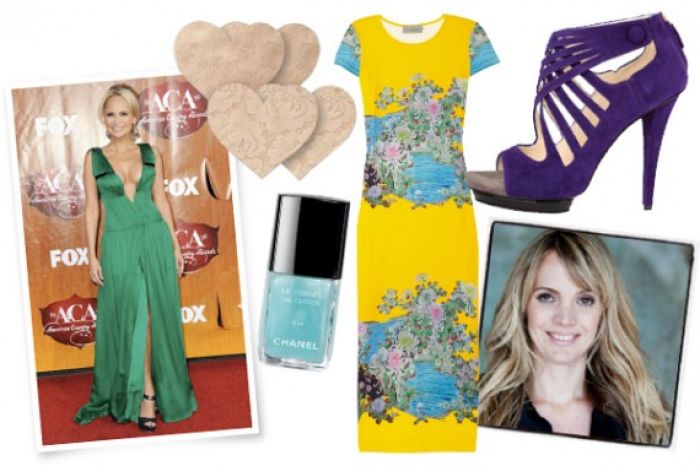 Sophia Banks-Coloma
This Australian lass has worn so many hats in the fashion industry, up-and-coming is nowhere near an adequate adjective to describe her. After co-founding our most crave-worthy boutique, Satine, she helmed the L.A. label Whitley Kros (nominated for the prestigious Ecco Domani Fashion Award), and has consulted on so many creative projects we don't even have space to name 'em! She's currently Kristen Chenoweth'sgo-to wardrobe gal, and most recently set designed and costumed the high-style flick Syrup, starring Amber Heard. With ten years in Hollywood under her skinny little belt, Sophia's keen eye and insider knowledge is unparalleled. 

Where do you find unexpected inspiration?
"It may sound silly, but I find inspiration in nail polish—the colors are more influential than you may think! New and bold colors that coat our nails one season constantly show up in clothing and accessories later. Remember when Chanel introduced their minty-jade green polish on the fall '09 runway? Well, get ready for spring '12, because minty greens abound on runways and wardrobes around the globe! On that note, check out the new blue Chanel polish named RIVA. To live for!"

"I also find architecture and sculpture to be a great source of inspiration. How we dress and how/where we live are two very closely intertwined worlds. For example, the intricate and grandiose architecture and detailing on old Victorian houses went hand-in-hand with the amazingly detailed and embellished layers and pieces that comprised the voluminous stylings of Victorian dresses. Currently, people are turning to artisan craftsmanship and vintage inspired architectural elements, and combining old with new in interior design as well. This is also true for fashion: the vintage/hipster movement combines styles of the past with modern day pieces."

What are your sneakiest style secrets?
"Bristols 6 has the best nippies out there! They prevent any and all nip slips and camera flash flashing, which is a dream come true for my clients! I also love their hem tape for jeans, which enables you to wear your favorite pair of flares with both your broken in converse sneakers AND your 6" tall wedges. Love it!"

"I use Commandos ALL the time. They are the number one pair of undies because they're totally seamless. You can wear them under pretty much anything, maintaining your decency even in the tightest dresses."

"Hollywood Fashion Tape is truly a gift from the style gods. From unruly collars to daring deep-v neck lines — HFT makes sure everything stays in place! Fashion tape can also be used in some unexpected places: if a ring is to big, wrap a strip of the tape around the bottom – it will make the ring a little tighter as well as help it stick to your finger so it won't go flying off! Also, if a button pops off, Fashion tape is great to use in pinch to stick the two sides together until you can find a sewing kit."

Do you have any under-the-radar shopping spots in L.A. that you've found hunting for clients?
"Solange Azagury Partridge is my absolute favorite jewelry right now! Her boutique on Rodeo may be more of a 'window-shop stop,' but going in is worth it! Her high-end pieces maintain a sense of humor, which is super important in this business!"

Her Picks: Bristols 6 Nippies Basic, $10, available at Bristols 6; Limited Edition Chanel Riva Le Vernis Nail Color Polish, $229.99, available at Bonanza; Preen Scuba Printed Stretch-Jersey Midi Dress, $620, available at Net-A-Porter; Burak Uyan Cutout Suede Sandals, $253.50, available at Net-A-Porter. 

Photos: Via Bristols 6, Bonanza, Net-A-Porter, and Sophia Banks-Coloma.