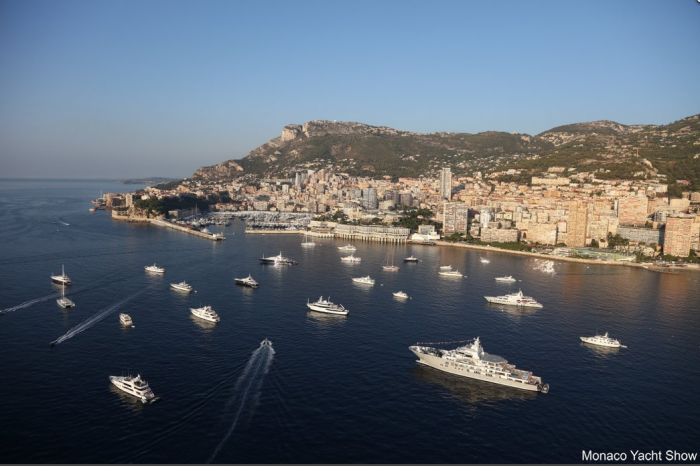 Photo Credit: Monaco Yacht Show
The world's largest superyachts exhibition is also the ideal place to discover the finest new superyacht tenders and dayboats on the market. The 2017 Monaco Yacht Show will take place in Monte Carlo's horseshoe-shaped harbor from September 27 through 30. During those four days, 34,000 yacht lovers, owners, and other aficionados will walk the docks to see 125 of the world's newest and most spectacular superyachts.
The Monaco Yacht Show is coming with a new Quai Antoine Ier viewing area to unveil a new exhibition space dedicated to the superyacht lifestyle. The reconfiguration of the Quai Antoine Ier exhibition area will create a new epicentre for activities and will stand as a new milestone in the development of the show since 1991. The Starboard will present a selection of exhibitors, specializing in superyacht destinations, luxury products and arts.
Photo Credit: Shutterstock.com
The Car Deck will be set alongside the Starboard and present fifteen or so prestige vehicles, with some available for test drives by the Show's premium clients. The finest cutting-edge models of prestige brands will be displayed: Aston Martin, Automobili Lamborghini, Bentley, Elemental Cars, Hoffmann & Novague, McLaren, Mercedes-Benz, and Shelby by Gentleman Car will be there, to name a few. The Tenders & Toys arena will display 15 or so tenders on two sites, one on the quay and the other on the water. Yacht owners, skippers and future clients will be able to choose their tenders from among the variety of products on view.
HISWA, one of the longest-standing exhibiting federations at the Monaco Yacht Show, will again raise the flag of the Dutch superyachting industry with their Holland Pavilion. Eight exhibiting companies will present their best know-how, expertise and high-end nautical products. Aston Martin's first foray into the world of luxury dayboats is returning to Monaco for the second year in a row. The 11.1 metre AM37 has attracted worldwide attention since her 2016 debut and the first production model, a heavily customised AM37S version, was recently completed by British build yard Quintessence Yachts for a Miami-based owner. The original AM37 prototype will go on display at the Monaco show along with the third hull in the series. Her seductive lines and immaculate detailing are sure to attract many admiring glances from the pontoons.