Megan duBois
In just a few months Star Wars: Galaxy's Edge will be opening at Disneyland Resort, and later this year at Walt Disney World Resort. Guests have even more to look forward to at Black Spire Outpost now that Disney has released even more information about what's going on behind the construction walls at both parks.
With two new attractions inside the expansion, guests are sure to immerse themselves in their own Star Wars story. Star Wars: Rise of the Resistance is going to bring guests into the middle of a battle between the First Order and the Resistance. Millennium Falcon: Smugglers Run is going to allow guests to take the controls of the fastest hunk of junk in the galaxy.
Star Wars: Rise of the Resistance will be the longest attraction with a ride vehicle, all of which are trackless. Guests will encounter Star Wars characters like Rey, Poe Dameron, BB-8, and Kylo Ren, all of who's respective actors have reprised their role for the attraction. Guests will even leave their ride car to move from one part of the attraction to the next!
On Millennium Falcon: Smugglers Run, guests will start their journey by walking through a full-sized ship with winding corridors, through Hondo Ohnaka's new business Ohnaka Transport Solutions and into the Millennium Falcon lounge with a Dejarik table! Once your team of six is placed in the cockpit with two pilots, two gunners, and two flight engineers, the Millennium Falcon will react to every action the team does to create a fully custom experience each time for guests.
When guests start getting thirsty on Batuu, they'll want to head over to Oga's Cantina, where drinks and light snacks are served. Oga will be serving up mixed drinks, beer, and non-alcoholic beverages. Highlights on the menu include the Fuzzy TaunTaun, which is a fuzzy navel cocktail topped with foam, the Outer Rim which is a margarita with a black salt rim, and the Bespin Fizz which has shimmer, fizzing and bubbling actions. Inside Oga's guest will also encounter R-3X, the former Star Tours pilot turned DJ, who will be playing some the best music in the galaxy.
Ronto Roasters is bringing an authentic open-air meat spit to Batuu. The establishment is owned by Bakkar who is a massive podracing fan. There are a few food and non-alcoholic drink options here. The Ronto Wrap is sure to be a guest favorite with roasted pork, grilled Portugese sausage, slaw, and a spicy sauce wrapped in a pita.
The Milk Stand will bring the iconic drink to guests at Black Spire Outpost. Blue bantha milk is meant to have berry notes, and the green thala-siren milk is going to have tropical flavors. Each drink is going to be vegan, and have a milkshake-like texture.
Over at Docking Bay 7, guests will find Chef Strono "Cookie" Tuggs, who has been the longtime chef at Maz Kanata's castle. This fast-casual eatery will feature meals like Braised Shaak Roast, which is beef pot roast with cavatelli pasta, kale and mushrooms, and Oven Roasted Burra Fish, which is dijon-crusted sustainable fish with mixed greens, roasted vegetables, quinoa pumpkin seeds with a green curry ranch dressing. For dessert guests can try a raspberry creme puff with passion fruit mouse or a chocolate cake with white chocolate mousse and coffee custard.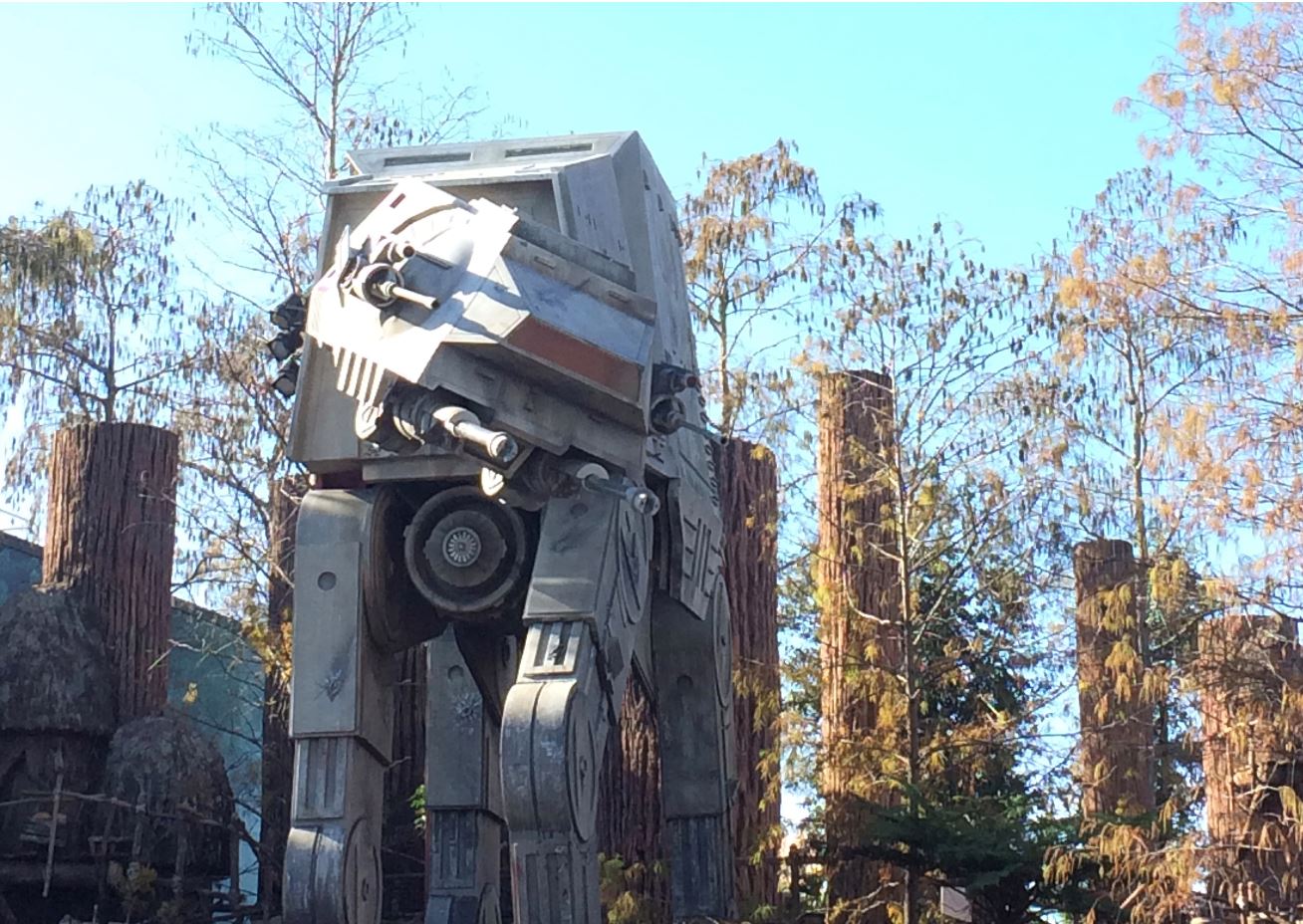 When your time on Batuu is getting close to over, guests are going to want to bring something back to Earth from Galaxy's Edge. There are plenty of options for shopping. Dok-Ondar's Den of Antiquities will be selling and buying up rare and unique items from the galaxy. Inside the shop an animatronic Dok-Ondar will be able to interact with cast members, and will never repeat the same actions twice!
If you're looking to bring a lightsaber back home look no farther than Savi's Workshop- Handbuilt Lightsabers. In this shop guests will be able to work alongside the workshop Master to customize and build their own lightsaber and the workshop Master instructs them on the path of the Jedi. Guests looking for a new astromech droid will want to go to the Droid Depot, where they can choose parts and construct their own doid!
Guests who align themselves with the First Order will want to stop at First Order Cargo. This hangar bay is the temporary base and landing spot for the First Order. Officers have brought gear, uniforms and other supplies to Black Spire Outpost. Local Resistance sympathizers will need to go to Resistance Supply for uniforms, pins, badges, hats, helmets, jackets, maps, tools, and more.
Out in Black Spire Outpost there are several market stalls that are going to sell merchandise to visitors. Toydarian Toymaker will sell plush toys, carvings, and musical instruments. The Creature Stall where guests can buy smaller versions of famous Star Wars creatures like porgs, puffer pigs, tauntauns, and rathtars. Black Spire Outfitters is where guests can find replica Star Wars outfits to wear around Batuu or back home. At Jewels of Bith visitors can buy accessories and other small trinkets.
Star Wars: Galaxy's Edge is going to be an experience like no other at a Disney Park.