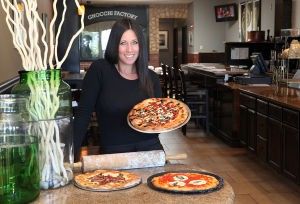 Vernon Ogrodnek
A gastronomical delight, Atlantic City is a fantastic foodie hot spot. Even still, there are a ton of restaurants throughout the area that seem to go relatively unnoticed to tourists. If you are ready to get full on some wonderful local AC restaurants, check out the spots discussed below:
The Iron Room at Atlantic City Bottle Company may be the best-kept secret in Atlantic City right now. And, while ownership hopes it doesn't' stay that way, it's kind of fitting.
That's because The Iron Room is modeled after a Prohibition-era speakeasy, a beautiful, cozy, dimly lit bar and restaurant that you discover after walking through a bright, classy, upscale package goods store.
"We wanted to pay respects to Atlantic City history with a wink and nod," says Managing Partner Paul Tonacci. "The way we designed the place is that when you walk in, you see this high-end bottle store with great spirits, beer and wine. But then as you get to the back, you see another room and you walk in and it's a totally different environment with a new ambiance to it. And you think, 'Wow! Look at all of the scotches and bourbons and whiskeys and craft beer. And then you are handed a small plates, seasonal food menu and realize we have a lot to offer here." Read More
ATLANTIC CITY — There can never be enough fresh attractions in Atlantic City.
There are six bistros that recently debuted at the Tropicana alone: Chickie's & Pete's, Tony Luke's, Casa Taco & Tequila Bar, Marketplace Express, Broadway Burger Bar and Perry's Pizza.
Folks can never get enough of Chickie's & Pete's. The iconic crab house/sports bar, which has a location in Bordentown Township, has finally made it to the shore. The new C&P is the second-largest in the burgeoning chain (South Philly is home to the largest) and it's packed as beachgoers take breaks to devour crab fries, buffalo chicken sandwiches and an array of draft beer. Read More
A Jersey Shore family legacy continues at Salvo Kitchen in Northfield. Lori Salvo, who together with her husband David, has owned several well-received restaurants in the Atlantic City area including Salvo Cucina in Longport and Presto in Somers Point, have done it again with Salvo Kitchen.
The Margate residents recently opened Salvo Kitchen in the former space occupied by Formica Brother's Bakery and Cafe in the Kensington Square Center on Tilton Road in Northfield.
"We were just given an absolutely wonderful opportunity to be offshore for year-round business that was too good to pass up," says Lori Salvo. The shopping center, Salvo says, is magnificent and the location is terrific. Read More