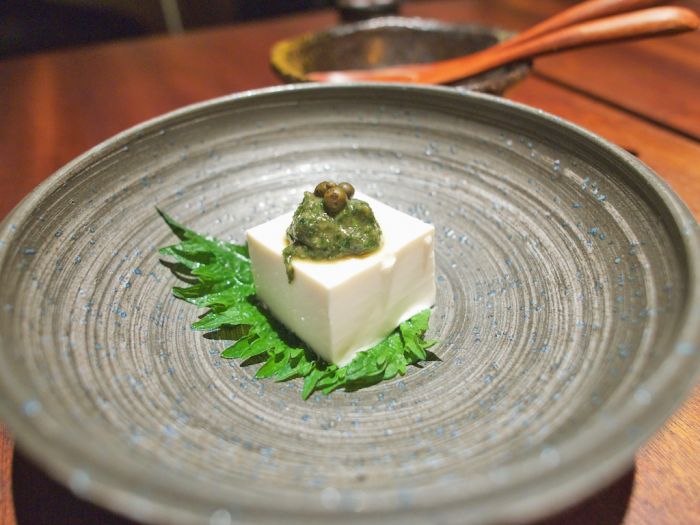 Photo Credit: Columbia Hillen
While "eating on the move" from street wurst vendors is still popular in Berlin, there has also been a fast growth in fine dining options over the last few years, spurred by the increasing numbers of expats moving to the German capital. Here are a few options to savor: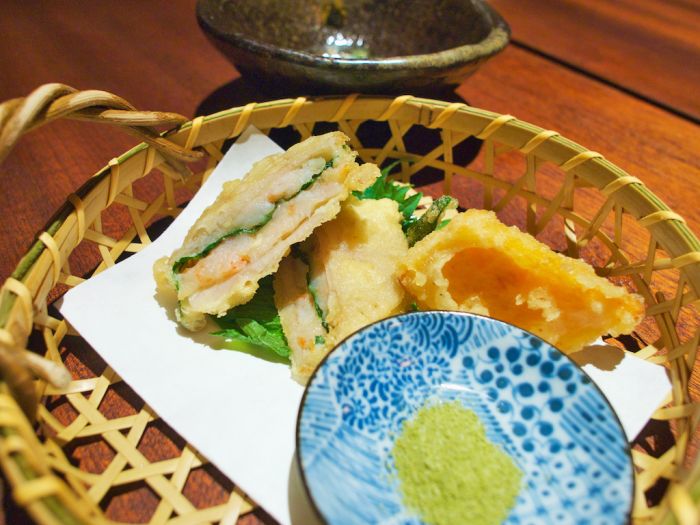 Photo Credit: Columbia Hillen
Oriental: Zenkichi
One is escorted to table at this popular, downtown Japanese cellar restaurant along a maze of dimly-lit pathways that meander through a tranquil, garden-like atmosphere to private, secluded booths separated by a drawstring bamboo half-curtain. Here, in an upscale, fine-dining Japanese Brasserie environment established by Motoko Watanabe and Shaul Margulies, we enjoyed an 8-course tasting menu while being educated in the art of sake tasting. After being informed the rice liquor is best taken in a 'progressive' manner, we began with the light, floral Sawanoi Souten from Ozawa brewery in Tokyo, followed by the fruity pear-flavored Akane Sasu from Tsuchiya brewery in Nagano, finishing with the Sawahime Premium Hitogokochi with its strong muscat grapenose from Inoue Sekichi brewery in Tochigi. Other tasters in miniature glasses included a honey-dew melon version Kame No Umi Muroka Nama Genshu, the woody Azuma Rikishi Uroko Yamahai Junmai and the more acidy Fuyujikomi Junmai.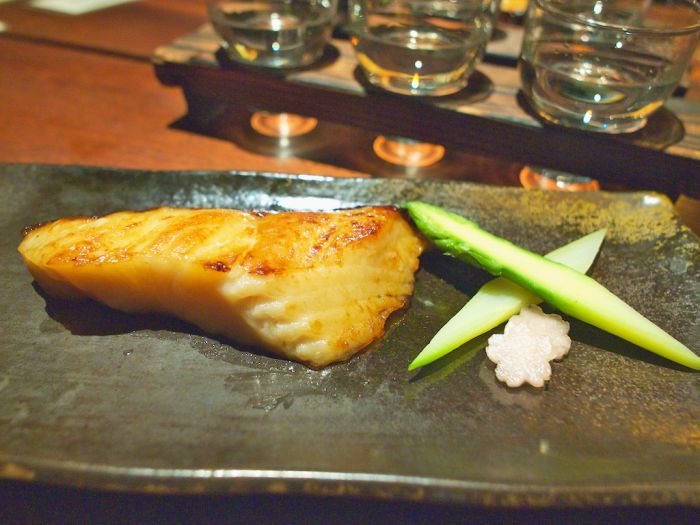 Photo Credit: Columbia Hillen
As for food, customers have the option of doing an individual tasting, or ordering from the Omakase (a la carte) menu. Highlights included a bowl of fragrant miso soup with mozzarella, threads of nori seaweed and ume fruit; delicate tuna and scallops with squares of tofu, Japanese persimmon and a tofu and ginger sauce; black cod marinated for three days in the chef's own special miso; and sashimi-style beef entrecote served with napa cabbage and a sukiyaki sauce. Zenkichi is in Mitte behind the Friedrichstadtpalast, close to Oranienburger Tor. Look for a glass sliding door next to the Rocket Internet HQ and instead of going upstairs to the House of Small Wonders, take an immediate left into the cellar. Note that mobile phones don't work in the cellar, and with the maze of pathways with mirrors, a meal at Zenkichi means a refreshing sense of losing track of time and space.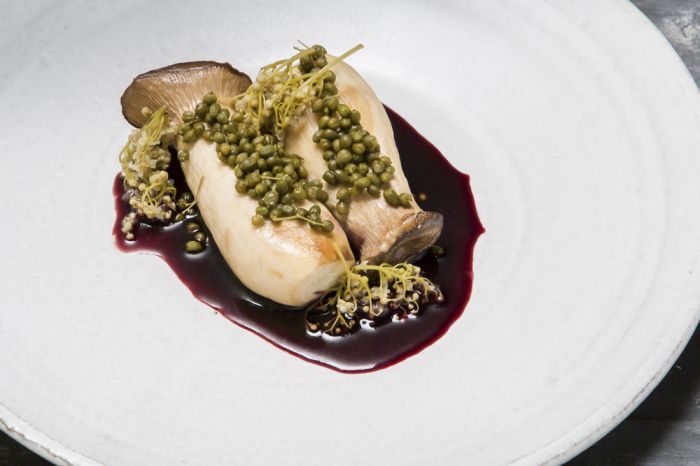 Photo Credit: Nobelhart & Schmutzig
Futuristic: Nobelhart & Schmutzig
Opened a year ago close to the iconic "Checkpoint Charlie," dining at this restaurant is an experience sure to be filled with a few firsts. Enhanced personal service begins at its street-side door. You can only gain entrance by ringing a bell. Clients sit either side-by-side at a wooden counter that wraps itself around an open kitchen, or communal-style at a large banquet table with spotlights hanging from the ceiling. As chefs go about their business, music from a record player lends a hint of Old World charm.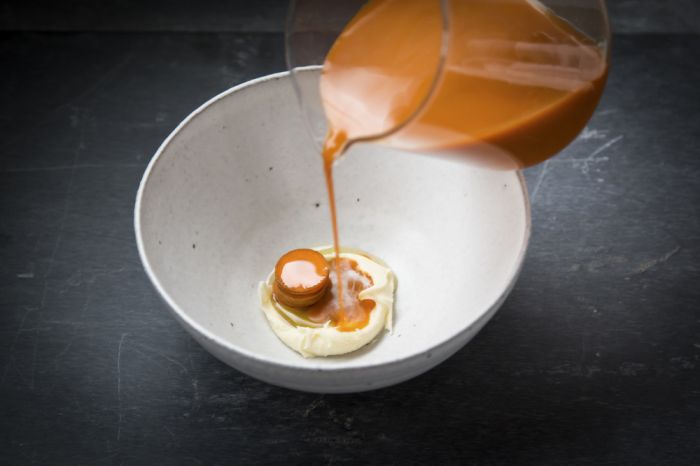 Photo Credit: Nobelhart & Schmutzig
A succession of chefs come counter-side to patiently explain to customers the contents of each dish and how they are cooked. We began by drinking Quince wine and, as a last course before dessert, indulging in smooth, liquefied potatoes poured over black pudding accompanied by Amarsi, a Munich-based double IPA. Other dining firsts for us included delicately smoked eel from the German district of Mueritzer Seenplatte, topped by red cabbage marinated in rapeseed and blackcurrant-branch infused oil; biodynamic egg with matchsticks of crown prince pumpkin; raw, line-caught trout carefully prepared for five days then served with salt, juniper oil and pan-fried oyster mushrooms; Fallow deer cooked slowly at 30 degrees with beetroot; and delicious spelt sourdough bread from Milan baker, Alfredo Sironi, with smooth raw milk and fat-heavy butter. Paired wines were chosen by restaurant owner, chef and sommelier, Billy Wagner. Wines included a Chablis from a boutique vineyard in northern Burgundy, which accompanied light, crispy kale with a dollop of horseradish sauce; a Grüner Veltliner Alte Point Mautern Wachau; a hearty south Perpignan red and a Chinon blanc from the Loire Valley.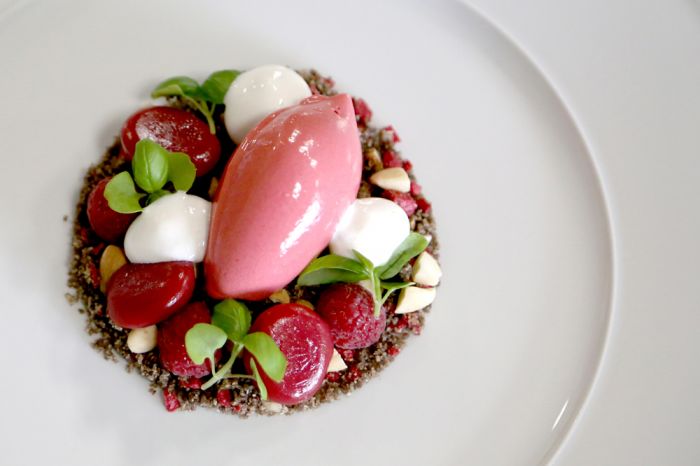 Photo Credit: Cookies Cream
Vegetarian: Cookies Cream
Funkiness is the hallmark of this trendy vegetarian restaurant. The only way to access the eatery is by going up an alleyway and through a heavy metal door, which looks as though it is the rear-end of the kitchen. At 10:30 PM on a Saturday night the place is hopping, with lively chitchat flowing freely from table to table. Above us is a bare, concrete ceiling with wiring in full view. In stark contrast, the tables are covered in immaculate, crisp white linen with flickering candles aglow. Once a cinema storage area and later a nightclub, this is now one of the leading vegetarian restaurants in Berlin. Kick off the evening with a choice from the intriguing cocktail list, like the "Moscow Mule," comprised of vodka, ginger, lime and cucumber.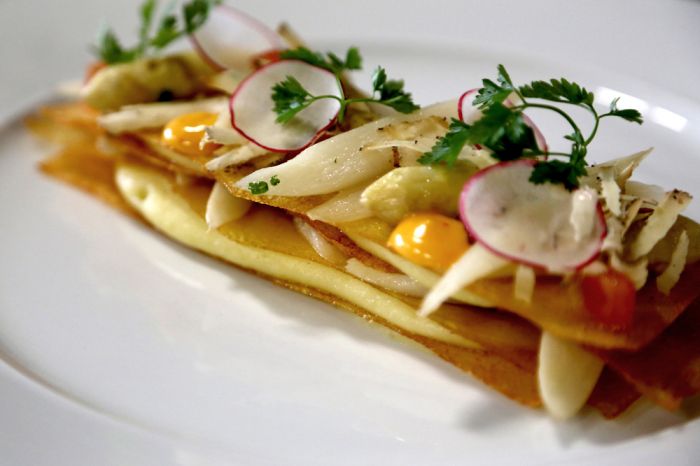 Photo Credit: Cookies Cream
The dinner menu is varied, with five starters including essence of lavender carrot, a leek soup flavored with lavender-infused oil accompanied by a wonton filled with carrot and a pave blanc of goat cheese with pumpkin seeds and rowanberries. Mains (that are so good they might even convince carnivores to consider meatless diets) range from baked aubergine resembling a chunk of chocolate cake, accompanied by polenta, green beans, peanuts and papadams to parmesan and toasted semolina dumplings in a creamy parmesan soup with shaved Alba truffle,and heart cauliflower with Vadouvan curry, smoked almond and Chinese turnip. It's hard to believe, but the Granny Smith apple sorbet with dill oil, roasted oats and fresh dill leaves brought us to silence. For post-dinner drinks, try the powerful house beetroot schnapps or simply step downstairs to the restaurant's companion bar below, Crackers, with its lively, pulsating music.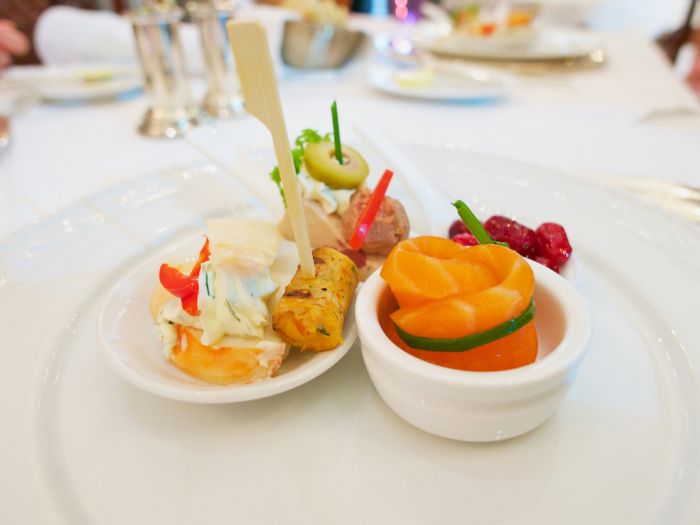 Photo Credit: Columbia Hillen
Classic: Kempinski Grill
Historic and elegant with an intimate, genteel atmosphere, this street-facing restaurant opened in 1952 on the ground floor of the Bristol Hotel Kempinskiand offers regional haute cuisine. If you prefer classic décor and comfort with candles, fresh flowers and crisp linens, this is the place. Service is attentive and it's traditional for the waiter to present cuts of meat on a silver platter for you to inspect. Here you can enjoy a four-course menu or a la carte items from a display with plenty of choice. With seating for only 35 inside, highlights include a tasty starter plate with a creative seafood twist on the ever-popular currywurst, the filling is comprised of salmon and King prawn, as well as smoked breast of duck with fois gras, cranberries and pigeon terrine.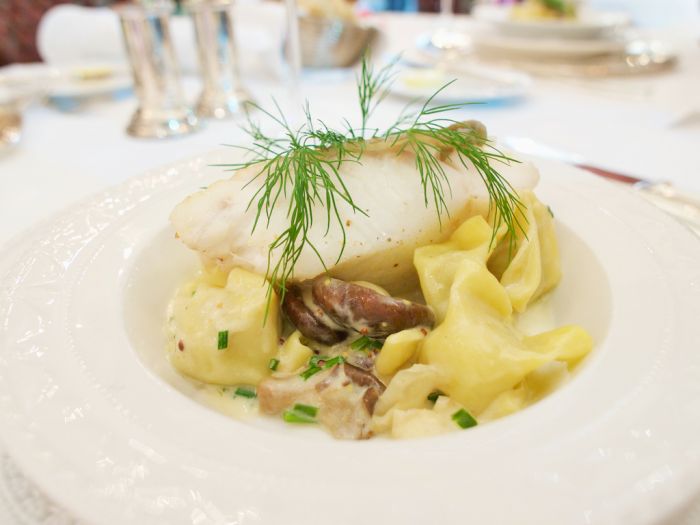 Photo Credit: Columbia Hillen
Mains include monkfish medaillon under an herbal crust, with yellow beetroot risotto and fried turbot on peanut purée with shallot foam. Under the charming heading 'Forest and Meadow" are flambéed lemongrass skewer of veal filet and beef filet tips on rosemary potatoes with fried vegetables and Dijon mustard pepper cream, as well as braised calf cheeks on fried potato mushroom talers with sauteéd black salsify. Two excellent mains are the chef's homemade pasta filled with porcini mushrooms topped with slivers of cod, and the venison dish served on red cabbage with knoedel (traditional potato dumplings) and a red wine sauce. Desserts are a tough choice. Tiramisu with berries and raspberry coulis competes against Bourbon vanilla parfait with pickled kumquats,but if you feel the need for added pampering, try the crêpes Suzettes, which are flambéed tableside. A "secret" room resides at one end of the restaurant. Known as the KPN room and named after the Royal Porcelain Factory, it is suitable for private parties and is sealed off behind an electronically-operated sliding panel.