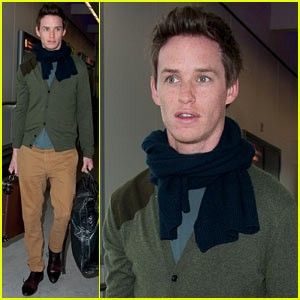 SplashNewsOnline
Very much unlike me, Eddie Redmayne strolled through Heathrow Airport and managed to look un-phased by the flight. He is seriously one well-dressed man. The piece that pulls it all together for me, though, is the single shoulder patch cardigan, I should get one of those.
 
Eddie Redmayne touches down at Heathrow Airport on Tuesday (February 26) in London, England.
The 31-year-old actor returned to his home country after attending and performing at the 2013 Oscars. Check out his Les Miserables performance in case you missed it!
Eddie recently took part in a campaign project for END7, an initiative to see the end of seven neglected tropical diseases by 2020. Read More