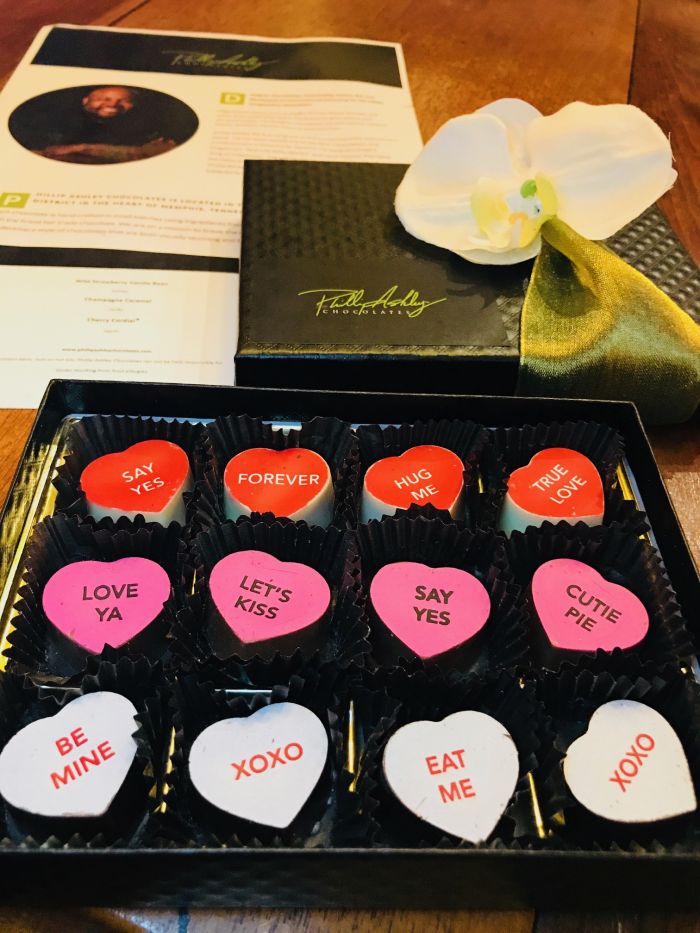 Photo by Jill Weinlein
This year designer chocolatier Chef Phillip Ashley Rix is making a Sweetheart Valentine's gift boxes filled with printed messages that include "Be Mine", "Forever", and "Say Yes". It's a more delicious take on the Sweethearts or conversation heart-shaped sugar candy.
Phillip Ashley Rix makes each handcrafted milk, dark and blonde chocolate in small batches. The three flavors include Wild Strawberry Vanilla Cream, Champagne Caramel and Cherry Cordial.
For those with dietary restrictions, Phillip Ashley Rix makes vegan and gluten-free hearts. They are handcrafted with the finest, plant-based ingredients and single origin dark chocolate. There is no compromise on flavor and these chocolates still have the same visual words on each heart. Flavors include Spiced Whiskey, Lavender Eart Grey Tea, Passion Fruit Vanilla Bean and Habanero Mango.
After Valentine's Day, the chocolatier makes designer chocolates, cherry cordials and signature caramels to enjoy and give all year long.
Named the Best Chocolatier and Confectioner in American by TasteTV. Phillip Ashley Rix became FORBES Magazine's "Real Life Willy Wonka" and Local Palate's "Memphis King of Chocolates."
As a self-taught chocolatier, he hosted the Taste of the Delta at The James Beard House in New York City. His chocolates were a favorite at the 2016 GRAMMY Celebration and 2016 OSCARS SALUTE.
The Phillip Ashley chocolate shop is located in the historic Cooper-Young District in the heart of Memphis, Tennessee. You can also purchase these chocolates at Neiman Marcus and HORCHOW.