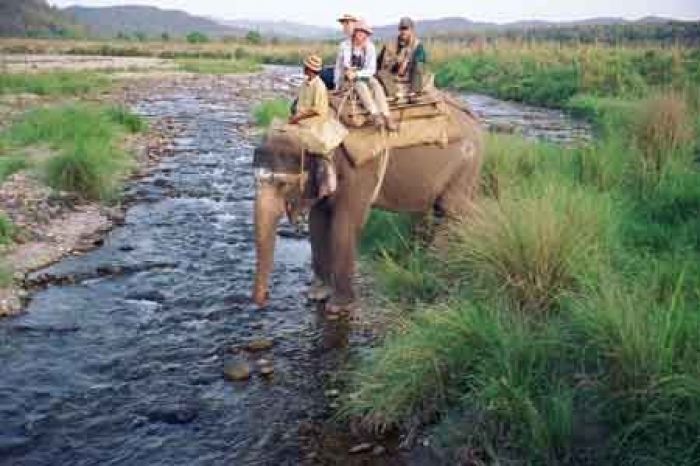 Elephant Safari is the majestic ride and essence of Royal ride. Royals used to sit on elephants and go into the forests and jungles for hunting and recreation. Royal Chitwan National Park is very famous national park in Nepal. It is the only park in Nepal offering majestic and royal elephant ride. Nepal is a spiritual country and still having the existence of royal family as Kings and queens. This national park of Nepal has tigers but in limited number. Spotting tiger here is a favorable chance but not always done. This dense forest of spine offers many wild animals to spot by riding on elephant.

Elephants are the huge animals and friendly to human beings. These animals are not tamed abut are used as the medium of transportation and carriage. Its gigantic feature attracts all people to have a ride over an elephant. If seeking for majestic ride o elephants back, Chitwan national park is favorable destination. Here elephant goes through long tall grass and marshy land into the forest. It passes through different zones of forest some of which are really very thick and carries many wild animals. Major chance of spotting wild animal in this national park is Rhinos.




Sitting on the back of elephant and getting the height of trees takes into the land of wonders. Some parts or zones of this forest are restricted to go in particular season. The season time when every zone is opened for wildlife travelers offers safari on a back of wild animal to explore other wild animal is really enthusiastic. If you are very lucky one, then only you can spot tiger. Getting into deep zone of forest, make a chance to explore and witness different kinds of wild reptiles. Here chirping of different varieties of birds are also listened.

Elephant safari in Indian national park offers you a chance to visit those areas which are difficult to reach by jeeps and other means. Spine forest is really very dense one and elephant is the only way to reach all difficult and unreachable destinations. People who ride elephant have deep knowledge of paths going through the forest and are experienced one. a true fragrance of royals can be felt with elephant safari in Royal Chitwan Park of Nepal.