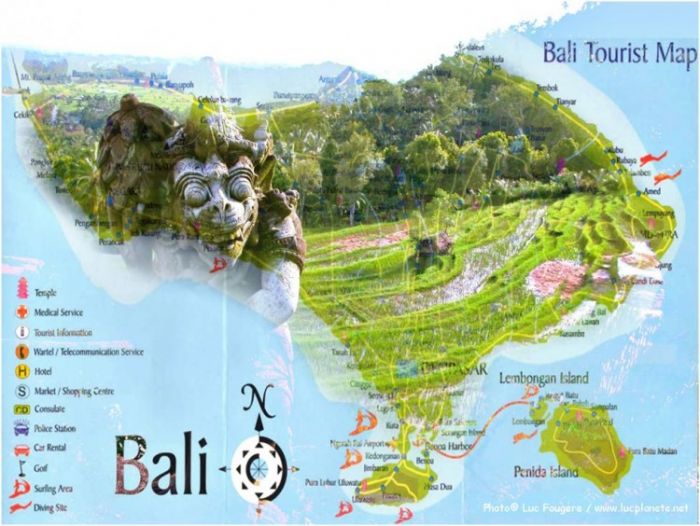 Located 8 and 9 degrees south of the Equator lay the beautiful Bali; to its west, Java, and to the East, Lombok and it's neighboring islets. Though Bali is small in dimension from the most northern point on the island, the adventure and contentment it brought me was utterly unforgettable. Who would ever deny the splendor it holds: volcanoes, abundant and lush tropical rain forests, clear crater lakes with pristine waters, numerous picturesque rivers, deep ravines, rice terraces, and countless fruit and vegetable gardens where anytime of the day, you can pick and eat them fresh? A good life, as anyone would say.
My one- week stay in the paradise surely had kept me embraced, and introduced to different enriching and artistic facets they had continuously preserved. The realm of their culture as well as with their Hindu beliefs is significantly powerful. Religion to them is very important, as rituals are practiced and performed daily, such as ancient ceremonies, festivals, and approaches that belonged to their great ancestors. Their loyal conviction to their Gods is truly remarkable, and it helped me allow myself more to understand how faith is valuable to every human. It doesn't only pilot us to the right track, but also, facilitate in sustaining unity in the community. Also, did I mention that Bali is actually referred to as "the Island of the Gods" because they worship so many?
The population of Bali is roughly around three million people, and still is growing. The small community proved that a very small degree of hope is sufficient to cause the birth of love. And they demonstrate that by welcoming and receiving me with wide arms open. They even performed their tribal dances and music just to show how pleased they are of having visitors like us come to their place. One of the dances they did displayed their religion, and about indigenous animism, and their time- honored folklore. Before the ceremony, they educated us about the rites they are about to make; that there are three district categories for Balinese dance according to religious functions. These include: Wali dances which are sacred and should only be preformed inside the temple courtyards; Bebali which are formal dances performed in the middle court of a temple and which mostly depicts love; and lastly, Balih- bailhan which are more worldly and material in form since costumes used are grand and colorful.
I stayed in a Seminyak villa which was deemed so to become Bali's most sophisticated neighborhood and I saw that eye to eye with their outstanding choice of international dining alternatives, stylish boutiques and home ware galleries lining the main streets. Aside from the rituals, they also make the most appetizing food, which I must say have been tempting all throughout the vacation, that I found it fitting into some of my jeans. Good thing, Bali is known for its world class- surfing activities and venues. Surfers of all shapes, ages, sizes and skill range congregate to the island to experience its immaculate waves. You wouldn't believe but they have names for their waves, and the famous ones are called Padang- Padang, Playgrounds, and Ulwatu. These surges had been among the most visited locale of the island, initiating a large appreciation in their inbound tourism. Below are some of the photo's I took during the sweet escape.
Mitchell Zavich Zunia is a native of Pennsylvania, and had graduated at Robert Morris University with a degree in International Studies. She is a field photographer for a high- flying publication in Pittsburgh. Also, she's the online content coordinator for www.allseminyakvillas.com. You may follow her on Twitter @MitchellZunia