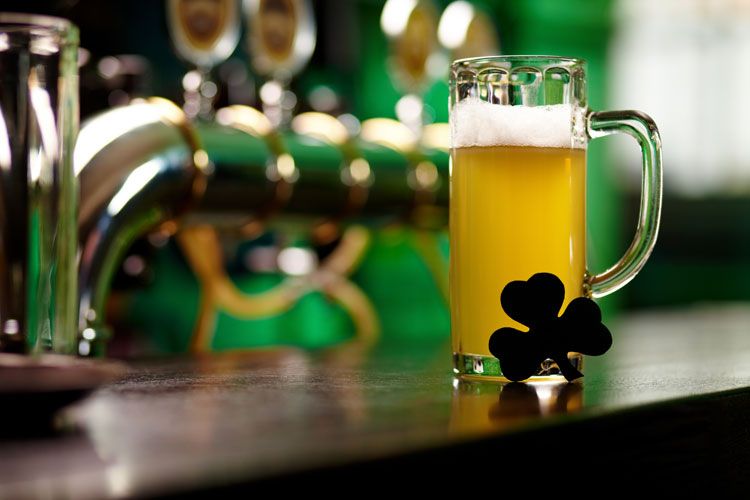 Photo Courtesy of Shutterstock
In Boston, we have a saying that "there are more Irish people in our fair city than Ireland." Take St. Patrick's Day, for example, it seems everyone in the city claims their Irish heritage (if only just for a day) on this celebratory occasion. And we all know Boston has a great list of beer bars, but what about good-old Irish pubs? Here's a list of ten local pubs where you can find a great pour of Guinness, an authentic shepherd's pie or just enjoy some good old craic (which sort of means, fun).
The Kinsale
Located in Government Center across from City Hall Plaza, this popular after-work hangout most closely resembles a step inside a Dublin pub, probably because the pub itself was actually created in Ireland. Sip on Guinness while listening to live Irish entertainment. Or nosh on hearty pub fare such as Galway wings, an Irish farmer's burger or my favorite, bangers and mash.
Clerys
Just what the South End needed, the great Irish bar Clerys has it all. Owned by Glynn Hospitality Group, the group is also responsible for Dillon's, Coogan's, Hurricane O'Reilly's and many other restaurants throughout the city. This hotspot offers weeknight entertainment, great brew selections and Irish fare with a twist (prosciutto-wrapped, pan-seared cod).
McGann's Irish Pub
If you want to check out a rugby match after catching a Celtics or Bruins game, head to McGann's Irish Pub. It is located just steps from the Garden, which means it's a great spot to hit before or after a game.
The Times
The Times in the Financial District features 20 beers on tap and has live entertainment five nights a week. The after-work crowd goes for drinks on the outdoor patio, which overlooks the Rose Kennedy Greenway, and tend to linger while they snack on fish and chips.
The Green Dragon Tavern
Want a little bit of history served up with an order of redcoat wings? Hang out in Paul Revere and John Hancock's favorite pub: Green Dragon, where it is claimed plans for invading Lexington and Concord were first made. A traditional Irish-boiled dinner is always on the menu here.
The Harp
Sips, suds and sports are what The Harp is all about located across the street from the Boston Garden. This Irish pub is a favorite of Bostonians for its endless pints either pre- or post-games. Try the beer battered fish sandwich paired with a pint of, what else, Harp lager!
Mr. Dooley's Boston Tavern
Locals just call it Dooley's and flock there for the full Irish breakfasts, burgers named after prominent Boston figures and the homemade Irish beef stew. Others go for the perfectly poured Guinnesses and late night live entertainment (bands usually come on at 10 p.m.).
The Black Rose
For 35 years, The Black Rose has been a staple in Faneuil Hall. With two stories, you can check out two Irish bands on the weekends, one on each floor. While this location might be one of the most touristy, having hosted high-profile musicians on its stages (The Chieftains and U2), locals alike love the breakfast, Irish lamb shank for dinners and Guinness beef stew.
MJ O'Connor's
Located in the Park Plaza Hotel in Back Bay, travelers love to stop in for beer at this cozy, not-your-average-hotel-bar bar. Designed to feel like a pub from Dublin, MJ O'Connor's makes you really feel like you just set foot on the old Irish sod. There is also a second location in the Seaport District.
JJ Foley's Cafe
JJ Foley's Cafe is the South End's answer to a true Irish pub where everyone seems to know everyone. Locals love it for its late night hours (come in early and stay late). It's also a favorite of off-duty police officers who love Jerry's Shepherd's Pie made with beef, lamb and served with Irish brown bread.
Photo Courtesy of The Kinsale
Photo Courtesy of Clerys Boston
Photo Courtesy of McGann's Irish Pub
Photo Courtesy of McGann's Irish Pub
Photo Courtesy of The Times
Photo Courtesy of The Green Dragon Tavern
Photo Courtesy of The Harp
Photo Courtesy of Mr. Dooley's Boston Tavern
Photo Courtesy of The Black Rose
Photo Courtesy of MJ O'Connor's
Photo Courtesy of JJ Foley's Cafe