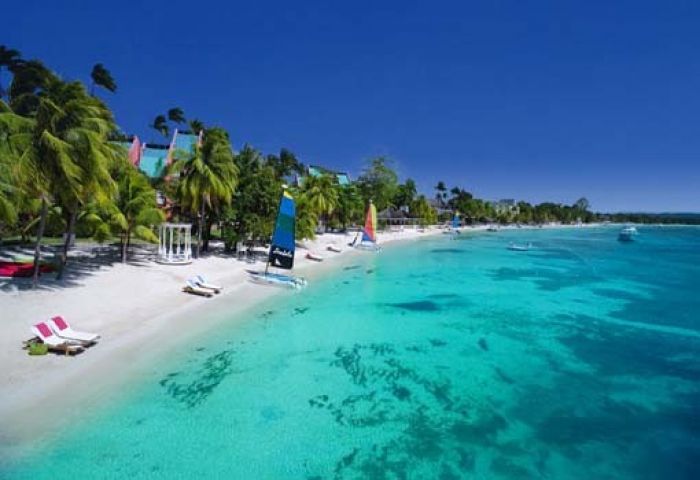 n/a
Sensational Stops for Antigua Yacht Charters
The first port of call for clients who choose the Leeward Islands to explore on their luxury yacht charter in the Caribbean is usually the beautiful island of Antigua, which is blessed with a rich history, stunning scenery and bountiful beaches.
Incredibly, on this Caribbean island with a coastline of just 87 km, there are enough beaches to go to a different one every day of the year. So those on an Antigua yacht charter for a fortnight really will be spoilt for choice when it comes to pinpointing where to spend the day.
As we have already mentioned, the island is rich in history having been of huge strategic importance in the 18th and 19th century as the 'Gateway to the Caribbean'. There are a number of historical points of interest to whet the appetite of those historians amongst you, not least of all the Betty Hope museum which tracks the rise and decline of the sugar production business which brought prosperity to the island.
But if you fancy switching off and enjoying the glorious Antiguan coastline on your Caribbean yacht charter here is a guide to help you find some of our favourite spots.
The best beach near Falmouth Harbour, from where you are most likely to embark on your yacht charter of a lifetime, is Pigeon Point, which epitomises the beautiful beaches in this region: white sand, crystal clear sea and palms tress gently swaying in the breeze.

A particularly good beach for those of you on yacht charter with your family is Dickenson Bay, which is situated on the north-west corner of the island near St John's. The sea here is shallow, and with the water temperature generally never falling below 25C, it is ideal for kids to splash around in.

For snorkelling fans, there are a number of specific spots to try out, such as Paradise Reef, a short sail north from Dickenson Bay. The reef here stretches along the coast for 1.5 km and snorkelers will have the chance to see a large range of colourful marine life including butterfly fish and urchins galore. Half Moon Bay, on the south-west of the island, is another recommended beach off which to snorkel. It has also become popular with surfers who head out pass the reef to catch some waves.

For one hundred per cent peace and quiet seek out some of the beaches in between Johnson's Point and Urlings, right on the south-westerly tip of the island. Here, you won't find much in the way of commercialism, just miles upon mile of beautiful white sand.

The Five Islands Peninsula is regarded as prime beach territory, with a considerable number of beautiful, secluded beaches such asthe Hawksbill Beaches. The colour of the sea here is picture perfect, and there are also some reefs for snorkeling.
n/a