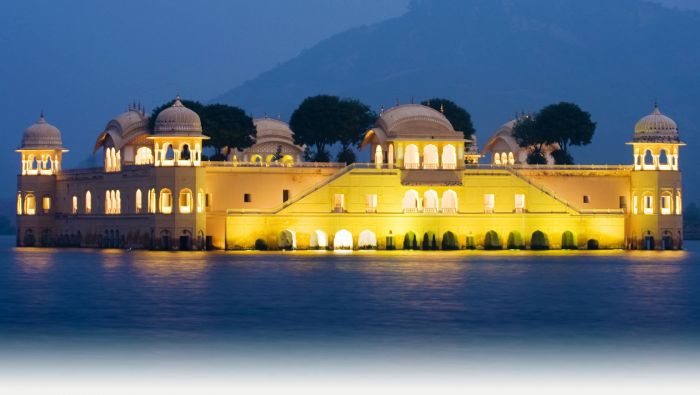 'Romance is the glamour which transforms each dust of everyday life into a golden charm'. This phrase greatly suits the picturesque lands of Rajasthan. Enliven your senses by the glittering beauty of the sand dunes and witness the magnificent forts, beautiful palaces and enchanting monuments that depict the glory of the bygone era. Enter into the cushioned world of fantasy and royalty as well as experience the nostalgia of the strong romantic ardor.
Your tour to the wonderful land of Rajasthan would remain incomplete unless you travel to Udaipur, known as the 'City of Lakes'. Experience the Romantic Rajasthan tour with Udaipur. Discover the enigma of this beautiful city surrounded by lakes, hills and picturesque beauty. Encompassing an essence of poetry and passion, the city of Udaipur, oozes the heart of each of the traveler. While walking into the prestine palaces, you can smell the essence of rich heroic past and the chivalry of the Rajputs. Some of the fantastic palaces of Udaipur are—City Palace, Bagore Ki Haveli, Fateh Sagar Lake, Monsoon Palace which will simply make you tour out of the world.
Lake Pichola, simply stunning, cannot be explained in words. This romantic place engrosses you completely, the moment you look at it. The Aravali Hills, lying on the other side the lake, makes a perfect background and truly adds to its phenomenal beauty. This is an ideal place for film shoots and many other ravishing parties.
If spiritualism bestows you the most, visit Jagdish Temple, one of the largest and beautiful temple of the place. This amazing religious place of worship was built by Maharana Jagat Singh in 1651 AD. Dedicated to Lord Vishnu, the temple acts like a magnet attracting a couple of devotees as well as a hoard of tourists from every nook and corner. Jagdish Temple is widely famous for its sculpted images and towering Shikhara that truly depicts the fusion of Indo- Aryan architectural styles.
While in the city, also highlight Swaroop Sagar Lake, Bhartiya Lok Kala Mandal, Sahelion Ki Bari, Eklingji Temple and Vintage Car Collections.
A tour to the desert land of Rajasthan makes you fall in love with the romantic Attractions of Udaipur with never forgetting colors of Rajasthan trip.