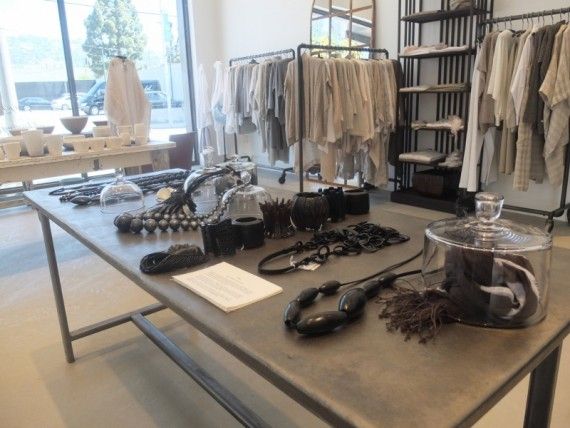 Eskandar
The store will be an emporium carrying the complete Eskandar women's collection for Spring/ Summer and transition into fall. Eskandar's collections are influenced by many different cultures and produced in the U.K. where Eskandar resides. Travelling extensively in Europe and the Far East at an early age, Eskandar became aware of the different traditional clothes of various countries – clothes that are not governed by "trends" but by function and tradition. Layers that could be removed or added as temperatures rose or fell, and adding volume that gave ease of movement and comfort, are all elements that influence his collections. Eskandar has taken many traditional shapes and made them wearable today using natural fabrics – creating a synthesis of cultures and traditions.
The eskandar shops all reflect his personal style and passion for decorating with furniture and objects he finds at antique markets.  All the furniture in the shops is for sale and below is a selection of the type of pieces which are usually available.
"Chairs, tables, shelves, mirrors, stools, cabinets, counters, shutters, ceramics, glass, vases, silverware, napkins, books, candles, antique sheets, throws…." A unique collection of  hand made ceramics selected by Eskandar will be available for purchase. Three of the  contemporary makers are featured here Joanna Still's large smoke fired pots, Daniel Smith's hand thrown porcelain tableware and Sotis Filippides' hand thrown stoneware.