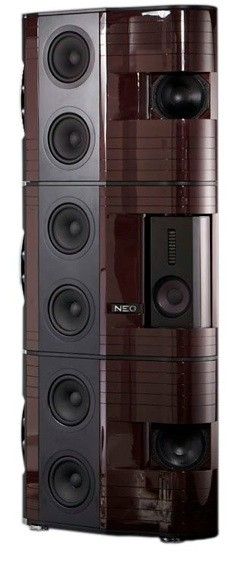 EVENTUS Audio LTD.
NEO is the only choice. Beyond NEO... nothing. NEO is the last choice.
NEO is so far from all other concepts, is so far from all other design. NEO encloses the whole EVENTUS Audio's know-how in the audio science and the last researches for the most advanced materials. After over 5 years of "working-on" NEO shows to the world how must be the best loudspeaker for the High End market.
-EA-U.HDR material for the cabinets

-SACC-2 patented technology

-Three separate modules for each channel

-Four ways

-Ten drivers

-High Efficiency, 96 dB

-One, two, three or four separate amplifiers for each channel
These are only few special features of NEO. But, of course, the most important key-element of NEO is its sound and its capability to reproduce the music without any compromise.
The material used for some parts of NEO today is the evolution of our EA-HDR, the name is EA-U.HDR. Only one small letter, "U", that means big differences! The new material is over 2 times more heavy, more strong and with an enormous density, 1.700 Kg/m3. The EA-HDR has a density of 750 Kg/m3. The "terrible" MDF has a density of only 550 Kg/m3.
And for the first time NEO uses our new SACC-2 technology! It's the natural evolution of our SACC. It was not easy to improve the "almost" perfect SACC but we did it! The new SACC-2 is based on the previous version but this time we added some new special materials to improve the audio performances of the SACC getting more natural sound and speed in the music playing.