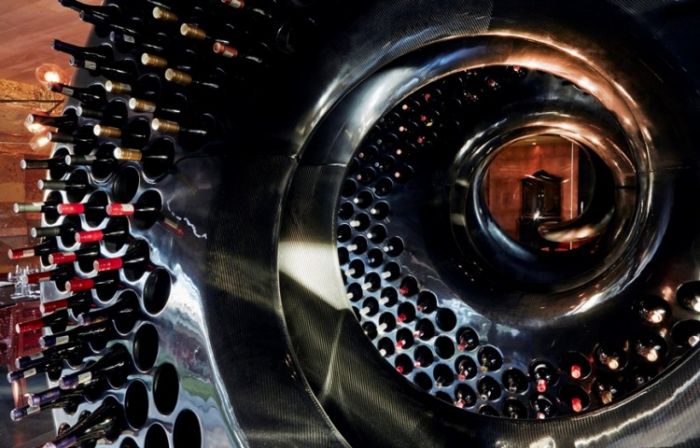 Ross Hillier
Cape Town's exclusive hotel Ellerman House boasts the finest in South African luxury with intimate accommodations, exceptional service, and spectacular food and wine. The most recent addition in Ellerman House's endeavor to provide a unique South African wine experience has culminated in the opening of the Wine Gallery, where a collection of 7,500 bottles of exclusively South African wines are encased in what seems to be a work of art rather than a functional space. The Wine Gallery marries the concepts of functionality and beauty with an innovative corkscrew design, imagined by a host of South African architects, artists, and designers, including architect Michael Dennett. The Gallery also includes an interactive multi-media wine library, maturation cellars for red and white wines, and a brandy tasting lounge. Thirteen stone steps below the Wine Gallery lies another unique feature of the gallery: the Champagne cellar, which is stocked solely with rare and special vintages of Dom Pérignon and is the first of its kind in South Africa.

The emphasis on South African wines, artists, and architects can be felt throughout the Gallery, especially through the use of natural, earthen materials, such as wood, granite and metal. These materials were left in their raw, natural state to weather over time and reveal their innate, intrinsic beauty. Another feature that will make guests feel truly at one with the origin of these South African wines is the terroir wall, composed of soil samples from 100 wine farms all across the country.

As the final component of this avant-garde venture into experiential wine-tasting, Ellerman House has conceived a wine app for the iPad, exclusively for guests of the hotel. This application is a welcome addition to the Gallery, providing detailed information about South African wines, interviews with the areas wine makers and tasting notes for individual wines in sync with the Ellerman House wine list.

Seated above the Wine Gallery is Ellerman House's new luxury villa named Villa Two. Perfect for families traveling with children or the more discerning guest who seeks the utmost in privacy, Villa Two is an exclusive oasis comprised of two levels that open onto private terraces overlooking the rocky coastline of Bantry Bay. On the top level, private parking leads to an entrance foyer, which opens into open-plan living and dining rooms and a spacious dine-in kitchen. Guests of Villa Two will have their own personal chef on-call to create delicious meals emphasizing fresh, locally-sourced, seasonal ingredients. The first floor of the villa, directly above the Wine Gallery, hosts three luxuriously appointed bedrooms, each with a private terrace, open-plan dressing room, bathroom, and separate water closet.

Villa Two offers easy access to Ellerman House's innovative new Wine Gallery, making it the perfect hotel for wine enthusiasts to learn about South Africa's wine industry before venturing out into the Winelands to experience the vineyards firsthand.
Ross Hillier
Ross Hillier
Ross Hillier
Ross Hillier